Background.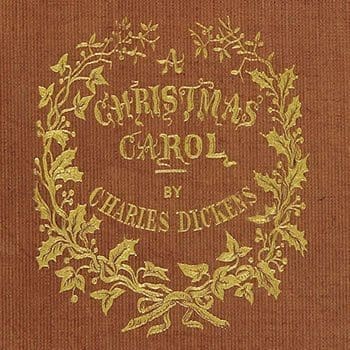 'Compounded some hot mixture in a jug with gin and lemons, and stirred it round and round and put it on the hob to simmer' is a quotation from A Christmas Carol (Stave 3).
A Christmas Carol is a novella, or short story, written by Charles Dickens and first published in the Christmas of 1843. The allegorical tale tells the story of the transformation of the mean-spirited Ebenezer Scrooge through the visits of the spirit of his former business partner and three ghosts over the course of a Christmas Eve night. It remains a much-loved traditional Christmas tale.
Context.
Description of a hot punch-type drink Bob Cratchit is preparing to serve with the family Christmas dinner. Gin was a cheap alcoholic drink to use at the time so this type of festive drink would have been made by the poorer members of society. The drink Bob Cratchit makes as a Christmas celebration symbolises the poor financial state of his household.
The Ghost of Christmas Present, the second of the three spirits that haunt the miser Ebenezer Scrooge, in order to prompt him to repent his selfish ways, has taken Scrooge to see the family of his clerk, Bob Cratchit. There, he witnesses the Cratchit family enjoying a Christmas meal.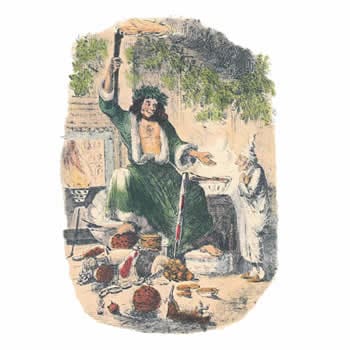 ---
Symbolism in A Christmas Carol: Food.
Food is used within A Christmas Carol to highlight individual characteristics and complement some of the themes that run through the story, such as Christmas and the importance of family. At the start of the novella, imagery of food is used to show characteristics of the protagonist Ebenezer Scrooge as a closed, self-isolated character when he is described as being as solitary as an oyster. On Christmas Day morning, Scrooge is shown city streets full of delicious food prepared for the festive period. Charles Dickens pays detailed attention to describing some of the food and often adds humour to the depictions, almost giving them their own personality such as great, round, pot-bellied baskets of chestnuts, shaped like the waistcoats of jolly old gentlemen, and ruddy, brown-faced, broad-girthed Spanish Onions, shining in the fatness of their growth like Spanish Friars. We read of the Cratchit family sitting down to a small roast goose dinner on Christmas Day. Goose was a cheaper meat than Turkey, reflecting the poverty of the family. The meat is eked out by apple-sauce and mashed potatoes, reflecting the Cratchit's making do with cheap accompaniments. Poor households did not have their own ovens so the goose is cooked in the ovens of a local baker and a clothes-washing pot is used to cook the small pudding for a large family, causing the cloth to have a smell like a washing-day! Bob Cratchit makes a festive punch-type drink of a hot mixture in a jug with gin and lemons, gin being a cheap alcoholic ingredient to add. Despite the meagre meal the dinner at the Cratchit's shows the Christmas tradition of bringing the family together and the emotional warmth within the household. After he is visited by the spirits of his former business partner, Jacob Marley, and three ghosts, we see Scrooge, a changed man, purchasing a large turkey for the Cratchits, symbolising his transformation from miserly to a generous character.
---
Source.
Taken from the following passage in Stave 3 (The Second Of The Three Spirits) of A Christmas Carol:
"And how did little Tim behave?" asked Mrs. Cratchit, when she had rallied Bob on his credulity, and Bob had hugged his daughter to his heart's content.

"As good as gold," said Bob, "and better. Somehow he gets thoughtful, sitting by himself so much, and thinks the strangest things you ever heard. He told me, coming home, that he hoped the people saw him in the church, because he was a cripple, and it might be pleasant to them to remember upon Christmas Day, who made lame beggars walk, and blind men see."

Bob's voice was tremulous when he told them this, and trembled more when he said that Tiny Tim was growing strong and hearty.

His active little crutch was heard upon the floor, and back came Tiny Tim before another word was spoken, escorted by his brother and sister to his stool before the fire; and while Bob, turning up his cuffs—as if, poor fellow, they were capable of being made more shabby—compounded some hot mixture in a jug with gin and lemons, and stirred it round and round and put it on the hob to simmer; Master Peter, and the two ubiquitous young Cratchits went to fetch the goose, with which they soon returned in high procession.

Such a bustle ensued that you might have thought a goose the rarest of all birds; a feathered phenomenon, to which a black swan was a matter of course—and in truth it was something very like it in that house. Mrs. Cratchit made the gravy (ready beforehand in a little saucepan) hissing hot; Master Peter mashed the potatoes with incredible vigour; Miss Belinda sweetened up the apple-sauce; Martha dusted the hot plates; Bob took Tiny Tim beside him in a tiny corner at the table; the two young Cratchits set chairs for everybody, not forgetting themselves, and mounting guard upon their posts, crammed spoons into their mouths, lest they should shriek for goose before their turn came to be helped. At last the dishes were set on, and grace was said. It was succeeded by a breathless pause, as Mrs. Cratchit, looking slowly all along the carving-knife, prepared to plunge it in the breast; but when she did, and when the long expected gush of stuffing issued forth, one murmur of delight arose all round the board, and even Tiny Tim, excited by the two young Cratchits, beat on the table with the handle of his knife, and feebly cried Hurrah!

There never was such a goose. Bob said he didn't believe there ever was such a goose cooked. Its tenderness and flavour, size and cheapness, were the themes of universal admiration. Eked out by apple-sauce and mashed potatoes, it was a sufficient dinner for the whole family; indeed, as Mrs. Cratchit said with great delight (surveying one small atom of a bone upon the dish), they hadn't ate it all at last! Yet every one had had enough, and the youngest Cratchits in particular, were steeped in sage and onion to the eyebrows! But now, the plates being changed by Miss Belinda, Mrs. Cratchit left the room alone—too nervous to bear witnesses—to take the pudding up and bring it in.
Characters.
Bob Cratchit.
The abused, underpaid clerk of Ebenezer Scrooge, Bob Cratchit is a kind but very poor man with a large family and a very sick son, Tim. He works for Scrooge, copying letters in a cold dismal room, so small it is described as a sort of tank. Bring wintertime, he is forced to try and stay warm with thick clothes and heat himself by the flame of a candle. He wears tattered clothes as he cannot afford a coat. Cratchit is treated poorly by Scrooge and given a weekly salary that is insufficient to provide his family with a proper Christmas dinner. Despite these circumstances, Bob Cratchit represents the opposite qualities of Scrooge including kindness, generosity and the love of his family members.
Have Your Say.
Give your view on 'Compounded some hot mixture in a jug with gin and lemons, and stirred it round and round and put it on the hob to simmer' with a rating and help us compile the very best Charles Dickens quotations.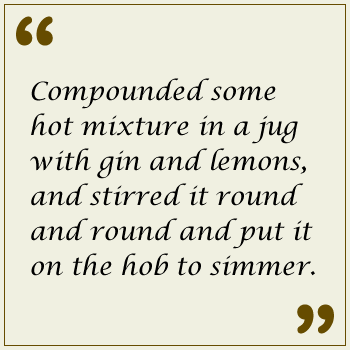 Related.
If you like this, we think you might also be interested in these related quotations: