Background.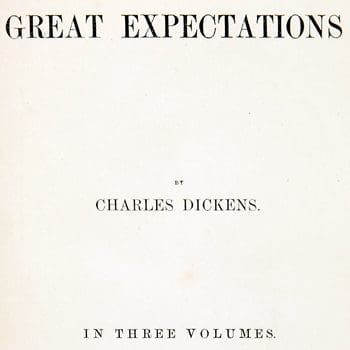 Context.
This quotation is said by the convict Abel Magwitch to soldiers to have just caught him after his escape from a nearby prison hulk. Magwitch is fighting in a ditch with another convict when the soldiers descend on both fugitives, pulling them apart. Magwitch tells the soldiers that instead of escaping far away he stayed on the marshes to apprehend the other prisoner, and then uses this quote to reveal a little of the background of the other prisoner.
The other prisoner, who Magwitch refers to as 'a gentleman', is a man named Compeyson. Later in the novel, we learn that Compeyson enticed Magwitch into helping him commit a deceitful fraud upon a young lady to whom he had proposed to.
However, when they were captured and punished, Compeyson was treated more leniently because of his class in society. Compeyson was educated at a public boarding school, whereas Magwitch, who came from a poorer background, received little or no education. Magwitch has felt aggrieved towards Compeyson ever since, and the hostilities between the two will surface later in the story.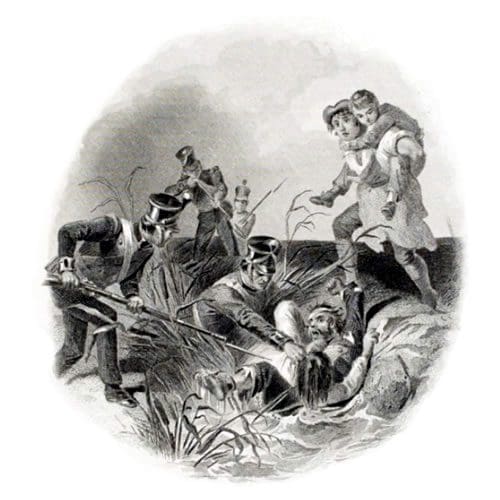 Chapter Summary.
Great Expectations Chapter 5.
Chapter 4 concluded with the arrival of a party of musket-carrying soldiers arriving at the Forge, as the Gargery's and guests are coming towards the end of their Christmas dinner. Chapter 5 continues with the Sergeant at the door, telling those inside that he needs a pair of handcuffs fixed by the blacksmith, and that the soldiers are pursuing two convicts 'pretty well known to be out on the marshes still'. Joe obliges by firing up the forge, helped by some soldiers to hasten the repairs. After fixing the handcuffs, Joe, Pip and Mr. Wopsle join the soldiers on their manhunt. The party hear shouting from a ditch and rushing towards it finds both convicts fighting in a ditch. The Sergeant rushes into the ditch telling them to surrender, joined soon after by fellow soldiers who drag both convicts apart from each other. Pip recognises them both from previous encounters but doesn't let on that he has met them. Pip refers to the convict he met at the church the previous day and brought food to as 'my convict'. Pip's convict tells the soldiers that instead of escaping himself, he remained to keep the other convict from getting away, telling them that 'he's a gentleman, if you please, this villain'. The other convict tells the soldiers that the other tried to murder him. The two convicts are escorted to a boat to be taken back to the prison hulk. Just before departing Pip's convict, having spotted Pip amongst the assembled crowd, confesses to the Sergeant that he stole food and a file from the Forge. Joe confirms that such items were taken. The chapter ends with the fugitives being taken across the water in a boat to be returned to the hulk, which Pip describes as being 'like a wicked Noah's ark'.
Later in the story, we learn that the convict Pip describes as 'my convict' is called Abel Magwitch, and that the other prisoner that he was fighting with was called Compeyson.
Source.
Taken from the following passage in Chapter 5 of Great Expectations:
Water was splashing, and mud was flying, and oaths were being sworn, and blows were being struck, when some more men went down into the ditch to help the sergeant, and dragged out, separately, my convict and the other one. Both were bleeding and panting and execrating and struggling; but of course I knew them both directly.

"Mind!" said my convict, wiping blood from his face with his ragged sleeves, and shaking torn hair from his fingers: "I took him! I give him up to you! Mind that!"

"It's not much to be particular about," said the sergeant; "it'll do you small good, my man, being in the same plight yourself. Handcuffs there!"

"I don't expect it to do me any good. I don't want it to do me more good than it does now," said my convict, with a greedy laugh. "I took him. He knows it. That's enough for me."

The other convict was livid to look at, and, in addition to the old bruised left side of his face, seemed to be bruised and torn all over. He could not so much as get his breath to speak, until they were both separately handcuffed, but leaned upon a soldier to keep himself from falling.

"Take notice, guard,—he tried to murder me," were his first words.

"Tried to murder him?" said my convict, disdainfully. "Try, and not do it? I took him, and giv' him up; that's what I done. I not only prevented him getting off the marshes, but I dragged him here,—dragged him this far on his way back. He's a gentleman, if you please, this villain. Now, the Hulks has got its gentleman again, through me. Murder him? Worth my while, too, to murder him, when I could do worse and drag him back!"

The other one still gasped, "He tried—he tried-to—murder me. Bear—bear witness."

"Lookee here!" said my convict to the sergeant. "Single-handed I got clear of the prison-ship; I made a dash and I done it. I could ha' got clear of these death-cold flats likewise—look at my leg: you won't find much iron on it—if I hadn't made the discovery that he was here. Let him go free? Let him profit by the means as I found out? Let him make a tool of me afresh and again? Once more? No, no, no. If I had died at the bottom there," and he made an emphatic swing at the ditch with his manacled hands, "I'd have held to him with that grip, that you should have been safe to find him in my hold."

The other fugitive, who was evidently in extreme horror of his companion, repeated, "He tried to murder me. I should have been a dead man if you had not come up."

"He lies!" said my convict, with fierce energy. "He's a liar born, and he'll die a liar. Look at his face; ain't it written there? Let him turn those eyes of his on me. I defy him to do it."

The other, with an effort at a scornful smile, which could not, however, collect the nervous working of his mouth into any set expression, looked at the soldiers, and looked about at the marshes and at the sky, but certainly did not look at the speaker.
Characters.
Abel Magwitch / Provis.
Like Pip, the convict Abel Magwitch is a character who follows a rags-to-riches story within Great Expectations. Originally incarcerated for his part in a plot to defraud Miss Havisham we first meet Magwitch after he escapes from a prison hulk and terrifies the young Pip whilst visiting the graves of his family in Kent churchyard. Magwitch is pursuing Compeyson, his accomplice in the fraud and who is treated more leniently. Pip aids Magwitch with food and tools, a gesture Magwitch will later handsomely repay. Magwitch is deported to Australia where he makes a fortune as a sheep farmer before returning, secretly, to England under the name Provis. In later life, Magwitch is revealed as a kinder man who has been helping Pip achieve his great expectations.
In screen adaptations of Great Expectations, the character of Abel Magwitch has been played by such actors as James Mason (1974 TV movie), Anthony Hopkins (1989 TV mini-series), Bernard Hill (1999 TV movie), Ray Winstone (2011-2012 TV-series) and Ralph Fiennes (2012 film).
Compeyson.
Compeyson is the main antagonist of the Charles Dickens novel, Great Expectations, whose criminal activities harmed two people, who in turn shaped much of protagonist Pip's life. A middle-class swindler, Compeyson ropes Abel Magwitch into his schemes but receives a lighter sentence as a result of his background. He abandons Miss Havisham at the altar and later gets Magwitch arrested. After Magwitch returned to England, Compeyson died after drowning in the River Thames while fighting with Magwitch.
In screen adaptations of Great Expectations, the character of Compeyson has been played by such actors as Sean Arnold (1989 TV mini-series), Donald Sumpter (1999 TV movie), Paul Rhys (2011-2012 TV-series), and William Ellis (2012 film).
Have Your Say.
Give your view on 'He's a gentleman, if you please, this villain' with a rating and help us compile the very best Charles Dickens quotations.
Related.
If you like this, we think you might also be interested in these related quotations: