Background.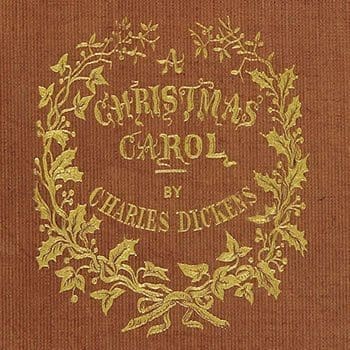 A Christmas Carol is a novella, or short story, written by Charles Dickens and first published in the Christmas of 1843. The allegorical tale tells the story of the transformation of the mean-spirited Ebenezer Scrooge through the visits of the spirit of his former business partner and three ghosts over the course of a Christmas Eve night. It remains a much-loved traditional Christmas tale.
Context.
This quote is from a paragraph describing Ebenezer Scrooge at the beginning of A Christmas Carol. Scrooge is a cold-hearted tight miser who watches everything going on within his counting-house business.
Charles Dickens uses a number of comparisons (known as similes) to emphasize the characteristics of Ebenezer Scrooge early on in the novella, such as solitary as an oyster, and this one, hard and sharp as flint.
Flint is traditionally used to make fire by striking it hard against another rock or metallic surface to create sparks, but Dickens goes on to say that Scrooge is so hard that no steel had ever struck out generous fire. This gives the perception of Scrooge being a very cold character, a word also associated with being mean.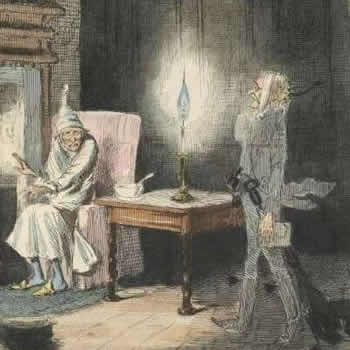 Literary Technique.
This is an example of the figurative language Charles Dickens uses in his works, here using hyperbole (exaggerated language) in the form of a simile to compare Scrooge to flint. The use of similes helps an author to strengthen a description, and for the reader it helps to better visualize the scene in their heads. Flint is a form of the mineral quartz, which occurs chiefly as nodules and masses in sedimentary rocks, such as chalk and limestones. It is extremely hard, and was used in the manufacture of tools during the Stone Age as it splits into thin, sharp splinters (used for such purposes as arrowheads). Dickens is comparing Scrooge to two aspects common to flint; its hardness (here meaning that Scrooge is mean or tight) and its sharpness (here meaning that Scrooge watches over everything and doesn't miss anything in his work). Flint was traditionally used to start fires which may hint at Scrooge's later change in attitude as the story unfolds. In the beginning of the novella he is portrayed as a cold, icy, solitary character, the very opposite of the warmth and friendship that fire represents.
---
Symbolism in A Christmas Carol: Fire.
Charles Dickens uses the imagery of fire to symbolise greed and generosity within the story of A Christmas Carol. Fuel was an expensive commodity for many at the time the novella was written so the amount burnt, reflected by the size of a fire, reflected the generosity of a character. The image of small fires at the start of the story reflect the mean-spirited characteristic of Ebenezer Scrooge, who keeps a very small fire at his place of work, and for his clerk Bob Cratchit's he was even meaner as his fire resembled a lump of coal despite it being a bitter cold Christmas Eve. Scrooge keeps the fuel in his own room, frightening Cratchit into wearing extra clothing and trying to warm himself by a candle. When he gets home, Scrooge would rather save money and live in discomfort, keeping a very low fire for himself, described as nothing on such a bitter night to which he is forced to lean over just to extract the least sensation of warmth from such a handful of fuel. By contrast scenes of happiness and generosity are represented by large fires, such as that of a party in a scene from the past held by Fezziwig, where fuel was heaped upon the fire, so much so that the generous host had a positive light reflect from his legs which shone like moons. In the present, Scrooge witnesses scenes of fires at Christmas time that bring happiness, many associated with the theme of eating food at this festive time, such as the brightness of the roaring fires in kitchens, parlours, and all sorts of rooms, was wonderful and the flickering of the blaze showed preparations for a cosy dinner, He see's scenes associated with the coming together of family at this time of year, such as that of a miner and his family who are a cheerful company assembled round a glowing fire. Through Scrooge's transformation in this allegorical tale we also see his attitude to using fuel change. After emerging from a night when he is visited by the spirits of his former business partner, Jacob Marley and three ghosts, Scrooge asks to make up the fires and even tells Cratchit to buy another coal-scuttle, suggesting he now wants to pay for more fuel.
---
Ebenezer Scrooge.
Ebenezer Scrooge is one of the most famous characters created by Charles Dickens and arguably one of the most famous in English literature. The protagonist of A Christmas Carol, Scrooge is the cold-hearted and mean-spirited accountant. His business partner, the equally mean Jacob Marley, died seven years previous and he lives alone, having never married. Through a visit one Christmas Eve by the ghost of Marley and three subsequent spirits, Scrooge is awakened to his meanness and the impact it has on others.

Source.
Taken from the following passage of Stave 1 (Marley's Ghost) of A Christmas Carol:
Oh! But he was a tight-fisted hand at the grindstone, Scrooge! a squeezing, wrenching, grasping, scraping, clutching, covetous, old sinner! Hard and sharp as flint, from which no steel had ever struck out generous fire; secret, and self-contained, and solitary as an oyster. The cold within him froze his old features, nipped his pointed nose, shrivelled his cheek, stiffened his gait; made his eyes red, his thin lips blue; and spoke out shrewdly in his grating voice. A frosty rime was on his head, and on his eyebrows, and his wiry chin. He carried his own low temperature always about with him; he iced his office in the dog-days; and didn't thaw it one degree at Christmas.
Have Your Say.
Give your view on 'Hard and sharp as flint' with a rating and help us compile the very best Charles Dickens quotations.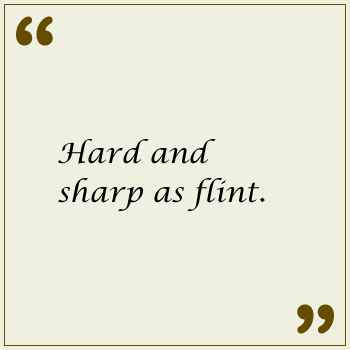 Related.
If you like this, we think you might also be interested in these related quotations:
Resources.
We have made our A Christmas Carol quotation slides (seen at the top of each quotation page) available to download for academic or other non-commercial purposes. Available as GIF images, the files can be used for presentation slides, flashcards, handouts etc. Dimensions are 1500 by 850 pixels. We make them free to download and use on the understanding they are not then sold or used for commercial purposes (and a credit to our site would be nice!).
Discover more.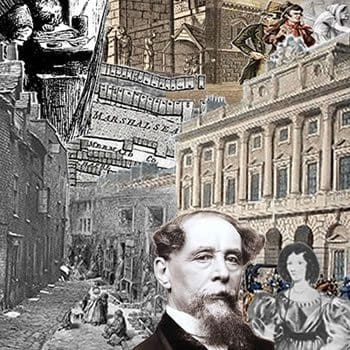 ---