Background.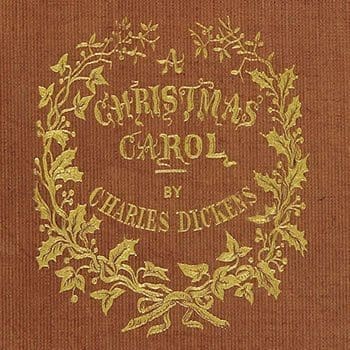 A Christmas Carol is a novella, or short story, written by Charles Dickens and first published in the Christmas of 1843. The allegorical tale tells the story of the transformation of the mean-spirited Ebenezer Scrooge through the visits of the spirit of his former business partner and three ghosts over the course of a Christmas Eve night. It remains a much-loved traditional Christmas tale.
Context.
The quotation is said by Ebenezer Scrooge towards the end of A Christmas Carol. After emerging from a night when he is visited by the spirits of his former business partner, Jacob Marley and three ghosts, Scrooge is relieved to wake and find his nightmare is over, and emerges with a newly found passion for life and resolve to do good.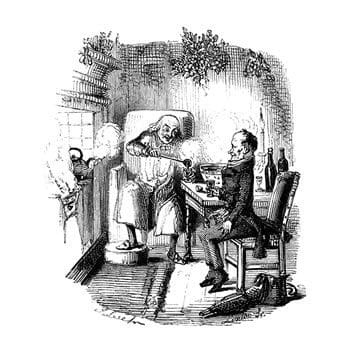 Literary Technique.
This is an example of the figurative language Charles Dickens uses in his works, here using a plethora of similes in this passage from Stave 5 of A Christmas Carol to show how happy Scrooge is. The use of similes helps an author to strengthen a description, and for the reader it helps to better visualize the scene in their heads.
Ebenezer Scrooge.
Ebenezer Scrooge is one of the most famous characters created by Charles Dickens and arguably one of the most famous in English literature. The protagonist of A Christmas Carol, Scrooge is a cold-hearted and mean-spirited accountant. His business partner, the equally mean Jacob Marley, died seven years previous and he lives alone, having never married. Through a visit one Christmas Eve by the ghost of Marley and three subsequent spirits, Scrooge is awakened to his meanness and the impact it has on others.
Source.
Taken from the following passage in Stave 5 (The End Of It) of A Christmas Carol:
He was so fluttered and so glowing with his good intentions, that his broken voice would scarcely answer to his call. He had been sobbing violently in his conflict with the Spirit, and his face was wet with tears.

"They are not torn down," cried Scrooge, folding one of his bed-curtains in his arms, "they are not torn down, rings and all. They are here—I am here—the shadows of the things that would have been, may be dispelled. They will be. I know they will!"

His hands were busy with his garments all this time; turning them inside out, putting them on upside down, tearing them, mislaying them, making them parties to every kind of extravagance.

"I don't know what to do!" cried Scrooge, laughing and crying in the same breath; and making a perfect Laocoön of himself with his stockings. "I am as light as a feather, I am as happy as an angel, I am as merry as a schoolboy. I am as giddy as a drunken man. A merry Christmas to everybody! A happy New Year to all the world.Hallo here! Whoop! Hallo!
Have Your Say.
Give your view on 'I am as happy as an angel' with a rating and help us compile the very best Charles Dickens quotations.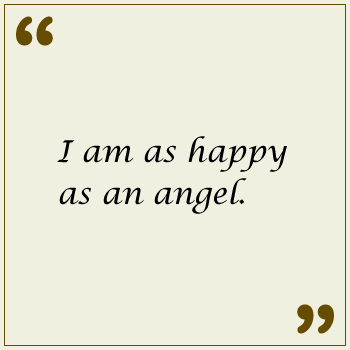 Related.
If you like this, we think you might also be interested in these related quotations:
Resources.
We have made our A Christmas Carol quotation slides (seen at the top of each quotation page) available to download for academic or other non-commercial purposes. Available as GIF images, the files can be used for presentation slides, flashcards, handouts etc. Dimensions are 1500 by 850 pixels. We make them free to download and use on the understanding they are not then sold or used for commercial purposes (and a credit to our site would be nice!).