Background.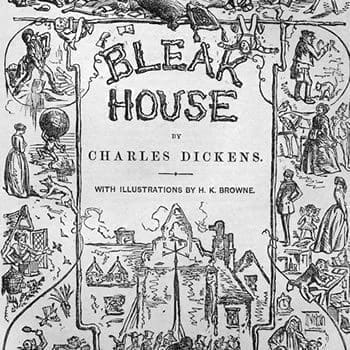 'This, you must know, is the growlery. When I am out of humour, I come and growl here.' is a quotation from Bleak House (Chapter 8).

Bleak House was the ninth novel by Charles Dickens, intended to illustrate the evils caused by long, drawn-out legal cases in the Court of Chancery.
Context.

Quotation said by the character John Jarndyce, talking to Esther. Mr. Jarndyce is guardian to Richard, Ada, and Esther, and owner of Bleak House.

Jarndyce, frustrated by the long-running Chancery suit that dominates the story of Bleak House has set aside an area of his home for thinking and de-stressing from the legal matters than often consume his time.

Dickens adapted an existing word growlery, meaning "growling, rumbling, or grumbling" and here gives it a new meaning of "a place to 'growl' in; jocularly applied to a person's private sitting room" (definitions from Oxford English Dictionary).

Taken from the following passage in Chapter 8 (Covering a Multitude of Sins) of Bleak House:
I was passing through the passages on my return with my basket of keys on my arm when Mr. Jarndyce called me into a small room next his bed-chamber, which I found to be in part a little library of books and papers and in part quite a little museum of his boots and shoes and hat-boxes.

"Sit down, my dear," said Mr. Jarndyce. "This, you must know, is the growlery. When I am out of humour, I come and growl here."

"You must be here very seldom, sir," said I.

"Oh, you don't know me!" he returned. "When I am deceived or disappointed in—the wind, and it's easterly, I take refuge here. The growlery is the best-used room in the house. You are not aware of half my humours yet. My dear, how you are trembling!"

I could not help it; I tried very hard, but being alone with that benevolent presence, and meeting his kind eyes, and feeling so happy and so honoured there, and my heart so full—I kissed his hand. I don't know what I said, or even that I spoke. He was disconcerted and walked to the window; I almost believed with an intention of jumping out, until he turned and I was reassured by seeing in his eyes what he had gone there to hide. He gently patted me on the head, and I sat down.

"There! There!" he said. "That's over. Pooh! Don't be foolish."

"It shall not happen again, sir," I returned, "but at first it is difficult—"

"Nonsense!" he said. "It's easy, easy. Why not? I hear of a good little orphan girl without a protector, and I take it into my head to be that protector. She grows up, and more than justifies my good opinion, and I remain her guardian and her friend. What is there in all this? So, so! Now, we have cleared off old scores, and I have before me thy pleasant, trusting, trusty face again."

I said to myself, "Esther, my dear, you surprise me! This really is not what I expected of you!" And it had such a good effect that I folded my hands upon my basket and quite recovered myself. Mr. Jarndyce, expressing his approval in his face, began to talk to me as confidentially as if I had been in the habit of conversing with him every morning for I don't know how long. I almost felt as if I had.

"Of course, Esther," he said, "you don't understand this Chancery business?"

And of course I shook my head.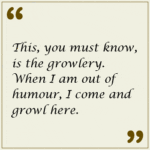 Have Your Say.

Give your view on 'This, you must know, is the growlery. When I am out of humour, I come and growl here.' with a rating and help us compile the very best Charles Dickens quotations.
Related.

Click here to view more quotations related to the character of John Jarndyce.

If you like this, we think you might also be interested in these related quotations: