Introduction.
In the Charles Dickens novel Great Expectations, Mr. Jaggers is a lawyer based near the Smithfield area of London. He is served by his assistant, Mr. Wemmick and his housekeeper, Molly.
He was a burly man of an exceedingly dark complexion, with an exceedingly large head, and a corresponding large hand.

Pip describes Jaggers upon his first encounter, on the stairs of Satis House, whilst both are visiting Miss Havisham.
Jaggers is Miss Havisham's lawyer, and is repsonsible for placing Estella in her care. Pip first encounters Jaggers on a visit to Miss Havisham's home, Satis House, as a boy.
Later in the story, Jaggers will visit Pip and Joe Gargery at the forge to deliver the good news that he is to become a gentleman. Jaggers becomes Pip's guardian whilst he is in London, responsible for managing the affairs of Pip's mysterious benefactor. As a lawyer, Jaggers is very successful and economical with his words at times.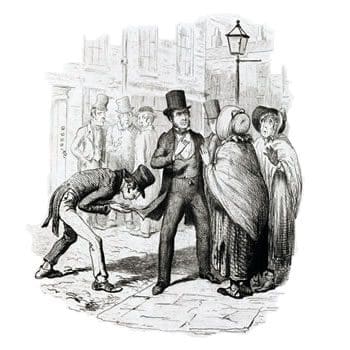 Take nothing on its looks; take everything on evidence. There's no better rule.

Jaggers is careful with his words, in this case so as not to incriminate his client, Abel Magwitch.
---
Work.
Jaggers works from an office in Little Britain, near the Smithfield area of London. The office is close to the notorious prison of Newgate where public executions took place. In Jaggers' room are death masks from former clients that were profitable to the firm.
At the office, Jaggers is served by his assistant, Mr. Wemmick and his housekeeper, Molly.
---
Home.
Jaggers lives in a rather plain house in Gerrard Street, Soho (which pip describes following a visit for dinner in Chapter 26).
---
Immediate Circle.
John Wemmick.
Mr. John Wemmick is Mr. Jaggers's clerk and becomes a friend to Pip after he moves to London.
Wemmick owns a house in Walworth which is modelled as a castle, complete with a drawbridge, cannon and moat.
Wemmick appears to have a split personality. In the employ of Jaggers he adopts an uncaring attitude towards clients whilst in private he is more joyous, particularly around his fiance, Miss Skiffins. During a visit to the office of Jaggers, Pip notes his that his personality 'was as dry and distant to me as if there were twin Wemmicks, and this was the wrong one' (Chapter 48).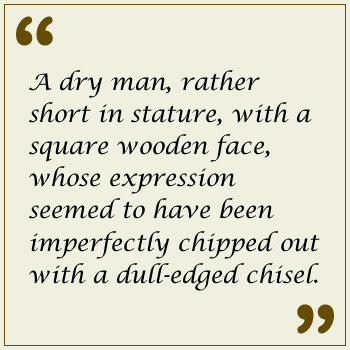 Molly.
Molly is Mr. Jagger's housekeeper. She starting working for the lawyer after he managed to get her off from a murder charge. It later emerges that Molly is the mother of Estella. Wemmick describes Molly as 'a wild beast tamed' whilst Pip compares her face to something from the witches cauldron in Macbeth.
---
Further information on our site.
---
---