Background.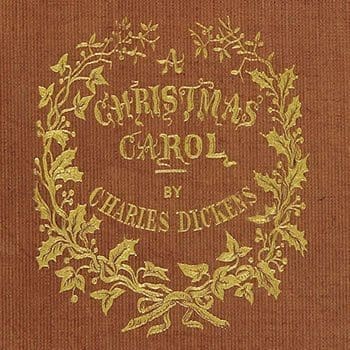 A Christmas Carol is a novella, or short story, written by Charles Dickens and first published in the Christmas of 1843. The allegorical tale tells the story of the transformation of the mean-spirited Ebenezer Scrooge through the visits of the spirit of his former business partner and three ghosts over the course of a Christmas Eve night. It remains a much-loved traditional Christmas tale.
Context.
This quote is a description of one of a group of businessmen talking about the death of Ebenezer Scrooge. Although they knew Scrooge during his lifetime, knowing his mean ways they joke about the lack of people likely to be at his funeral.
The scene is set in the future and is shown to Ebenezer Scrooge by the Ghost of Christmas Yet to Come. At the time Scrooge, who recognises the men, doesn't understand who they are talking about.
Soon after this event, Scrooge is transported to the graveyard of a Church by the Ghost, who points at a tombstone. Scrooge see's that it is his own grave and realises that the men have been talking about his own death.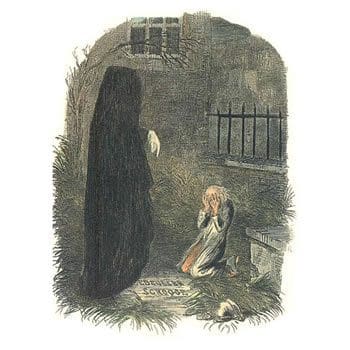 Source.
Taken from the following passage in Stave 4 (The Last Of The Three Spirits) of A Christmas Carol:
The Spirit stopped beside one little knot of business men. Observing that the hand was pointed to them, Scrooge advanced to listen to their talk.

"No," said a great fat man with a monstrous chin, "I don't know much about it, either way. I only know he's dead."

"When did he die?" inquired another.

"Last night, I believe."

"Why, what was the matter with him?" asked a third, taking a vast quantity of snuff out of a very large snuff-box. "I thought he'd never die."

"God knows," said the first, with a yawn.

"What has he done with his money?" asked a red-faced gentleman with a pendulous excrescence on the end of his nose, that shook like the gills of a turkey-cock.

"I haven't heard," said the man with the large chin, yawning again. "Left it to his company, perhaps. He hasn't left it to me. That's all I know."

This pleasantry was received with a general laugh.

"It's likely to be a very cheap funeral," said the same speaker; "for upon my life I don't know of anybody to go to it. Suppose we make up a party and volunteer?"

"I don't mind going if a lunch is provided," observed the gentleman with the excrescence on his nose. "But I must be fed, if I make one."

Another laugh.

"Well, I am the most disinterested among you, after all," said the first speaker, "for I never wear black gloves, and I never eat lunch. But I'll offer to go, if anybody else will. When I come to think of it, I'm not at all sure that I wasn't his most particular friend; for we used to stop and speak whenever we met. Bye, bye!"

Speakers and listeners strolled away, and mixed with other groups. Scrooge knew the men, and looked towards the Spirit for an explanation.
Characters.
Have Your Say.
Give your view on 'A great fat man with a monstrous chin' with a rating and help us compile the very best Charles Dickens quotations.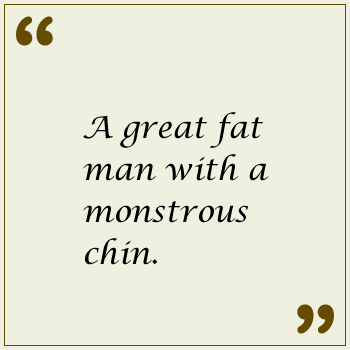 Related.
If you like this, we think you might also be interested in these related quotations:
Resources.
We have made our A Christmas Carol quotation slides (seen at the top of each quotation page) available to download for academic or other non-commercial purposes. Available as GIF images, the files can be used for presentation slides, flashcards, handouts etc. Dimensions are 1500 by 850 pixels. We make them free to download and use on the understanding they are not then sold or used for commercial purposes (and a credit to our site would be nice!).