Background.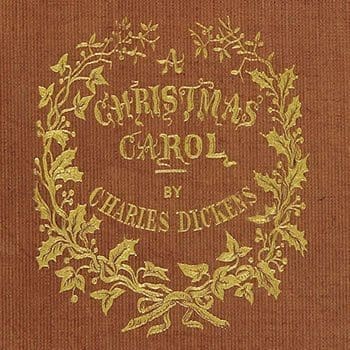 'For it is good to be children sometimes, and never better than at Christmas, when its mighty Founder was a child himself' is a quotation from A Christmas Carol (Stave 3).
A Christmas Carol is a novella, or short story, written by Charles Dickens and first published in the Christmas of 1843. The allegorical tale tells the story of the transformation of the mean-spirited Ebenezer Scrooge through the visits of the spirit of his former business partner and three ghosts over the course of a Christmas Eve night. It remains a much-loved traditional Christmas tale.
Context.
Quote said by the narrator in A Christmas Carol.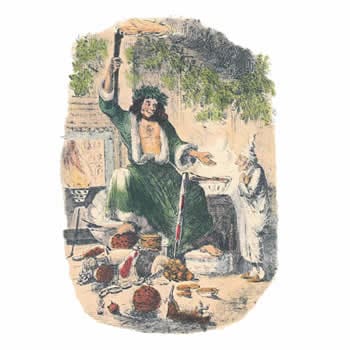 Themes in A Christmas Carol: Christmas.
As reflected in the title the theme of Christmas is central to the novella A Christmas Carol. Christmas is a traditional Christian celebration of the birth of Christ. Occurring around the Winter Solstice (the longest night of the year) has led to traditions from other cultures and religions being incorporated over time including Pagan, Roman and Greek. Dickens incorporates a number of these traditions into A Christmas Carol, such as the bringing together of family and friends, feasting of food, gathering around a fire, the singing of carols, the figure of Saint Nicholas (also known as Santa Claus/Father Christmas), the giving of presents and attending church. At the start of the story we see the miserly misanthropic character Ebenezer Scrooge reject many of these traditions. He represents the opposite of human traits we associate with Christmas such as generosity and compassion. Through his transformation, towards the end of the story we can see Scrooge adopt the spirit of Christmas such as happiness, generosity and kindness.
Ghost of Christmas Present.
The Ghost of Christmas Present is the second of the three spirits that haunt the miser Ebenezer Scrooge, in order to prompt him to repent. He appears to Scrooge as a jolly giant with dark brown curls, wearing a fur-lined green robe and on his head a holly wreath set with shining icicles. He carries a large torch, made to resemble a cornucopia, and appears accompanied by a great feast, and a scabbard with no sword in it, a representation of peace on Earth and goodwill towards men. The spirit transports Scrooge around the city, showing him scenes of festivity and also deprivation that is happening as they watch, sprinkling a little warmth from his torch as he travels. Amongst the visits are Scrooge's nephew, and the family of his impoverished clerk, Bob Cratchit and his disabled son Tiny Tim. The spirit finally reveals to Scrooge two emaciated children, subhuman in appearance and loathsome to behold, clinging to his robes, and naming the boy as Ignorance and the girl as Want. The spirit warns Scrooge, 'Beware them both, and all of their degree, but most of all beware this boy, for on his brow I see that written which is Doom unless the writing be erased.' The spirit once again quotes Scrooge, who asks if the grotesque children have 'no refuge, no resource,' and the spirit retorts with more of Scrooge's unkind words: 'Are there no prisons? Are there no workhouses?'.
Source.
Taken from the following passage in Stave 3 (The Second Of The Three Spirits) of A Christmas Carol:
It was their turn to laugh now at the notion of his shaking Scrooge. But being thoroughly good-natured, and not much caring what they laughed at, so that they laughed at any rate, he encouraged them in their merriment, and passed the bottle joyously.

After tea, they had some music. For they were a musical family, and knew what they were about, when they sung a Glee or Catch, I can assure you: especially Topper, who could growl away in the bass like a good one, and never swell the large veins in his forehead, or get red in the face over it. Scrooge's niece played well upon the harp; and played among other tunes a simple little air (a mere nothing: you might learn to whistle it in two minutes), which had been familiar to the child who fetched Scrooge from the boarding-school, as he had been reminded by the Ghost of Christmas Past. When this strain of music sounded, all the things that Ghost had shown him, came upon his mind; he softened more and more; and thought that if he could have listened to it often, years ago, he might have cultivated the kindnesses of life for his own happiness with his own hands, without resorting to the sexton's spade that buried Jacob Marley.

But they didn't devote the whole evening to music. After a while they played at forfeits; for it is good to be children sometimes, and never better than at Christmas, when its mighty Founder was a child himself. Stop! There was first a game at blind-man's buff. Of course there was. And I no more believe Topper was really blind than I believe he had eyes in his boots. My opinion is, that it was a done thing between him and Scrooge's nephew; and that the Ghost of Christmas Present knew it. The way he went after that plump sister in the lace tucker, was an outrage on the credulity of human nature. Knocking down the fire-irons, tumbling over the chairs, bumping against the piano, smothering himself among the curtains, wherever she went, there went he! He always knew where the plump sister was. He wouldn't catch anybody else. If you had fallen up against him (as some of them did), on purpose, he would have made a feint of endeavouring to seize you, which would have been an affront to your understanding, and would instantly have sidled off in the direction of the plump sister. She often cried out that it wasn't fair; and it really was not. But when at last, he caught her; when, in spite of all her silken rustlings, and her rapid flutterings past him, he got her into a corner whence there was no escape; then his conduct was the most execrable. For his pretending not to know her; his pretending that it was necessary to touch her head-dress, and further to assure himself of her identity by pressing a certain ring upon her finger, and a certain chain about her neck; was vile, monstrous! No doubt she told him her opinion of it, when, another blind-man being in office, they were so very confidential together, behind the curtains.
Have Your Say.
Give your view on 'For it is good to be children sometimes, and never better than at Christmas, when its mighty Founder was a child himself' with a rating and help us compile the very best Charles Dickens quotations.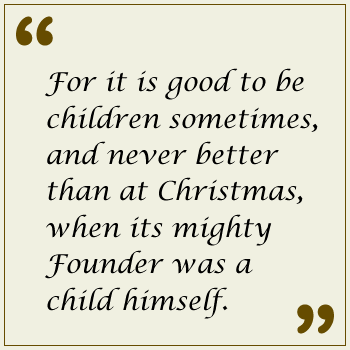 Related.
If you like this, we think you might also be interested in these related quotations:
Resources.
We have made our A Christmas Carol quotation slides (seen at the top of each quotation page) available to download for academic or other non-commercial purposes. Available as GIF images, the files can be used for presentation slides, flashcards, handouts etc. Dimensions are 1500 by 850 pixels. We make them free to download and use on the understanding they are not then sold or used for commercial purposes (and a credit to our site would be nice!).