Background.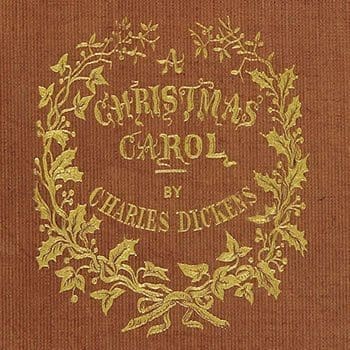 A Christmas Carol is a novella, or short story, written by Charles Dickens and first published in the Christmas of 1843. The allegorical tale tells the story of the transformation of the mean-spirited Ebenezer Scrooge through the visits of the spirit of his former business partner and three ghosts over the course of a Christmas Eve night. It remains a much-loved traditional Christmas tale.
Context.
The quotation is said by Ebenezer Scrooge towards the end of A Christmas Carol. After emerging from a night when he is visited by the spirits of his former business partner, Jacob Marley and three ghosts, Scrooge is relieved to wake and find his nightmare is over, and emerges with a newly found passion for life and resolve to do good.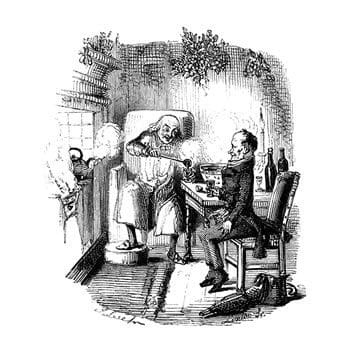 Tiny Tim.
Timothy Cratchit, nicknamed Tiny Tim, is the youngest son of Bob Cratchit, the underpaid clerk of Ebenezer Scrooge. Tim is disabled and requires the use of a crutch to walk. The Cratchit family are unable to pay for proper care for him on Bob's poor salary. When visited by the Ghost of Christmas Yet to Come, Scrooge sees that Tiny Tim has died. Scrooge asks if the desperately ill Tim will die. The Ghost first states that 'If these shadows remain unaltered by the Future, the child will die,' then – quick to use Scrooge's past unkind comments toward two charitable solicitors against him – suggests he 'had better do it, and decrease the surplus population'. This, and several other visions, lead Scrooge to reform his ways.
Source.
Taken from the following passage in Stave 5 (The End Of It) of A Christmas Carol:
Scrooge was better than his word. He did it all, and infinitely more; and to Tiny Tim, who did not die, he was a second father. He became as good a friend, as good a master, and as good a man, as the good old city knew, or any other good old city, town, or borough, in the good old world. Some people laughed to see the alteration in him, but he let them laugh, and little heeded them; for he was wise enough to know that nothing ever happened on this globe, for good, at which some people did not have their fill of laughter in the outset; and knowing that such as these would be blind anyway, he thought it quite as well that they should wrinkle up their eyes in grins, as have the malady in less attractive forms. His own heart laughed: and that was quite enough for him.

He had no further intercourse with Spirits, but lived upon the Total Abstinence Principle, ever afterwards; and it was always said of him, that he knew how to keep Christmas well, if any man alive possessed the knowledge. May that be truly said of us, and all of us! And so, as Tiny Tim observed, God bless Us, Every One!
Have Your Say.
Give your view on 'God bless Us, Every One!' with a rating and help us compile the very best Charles Dickens quotations.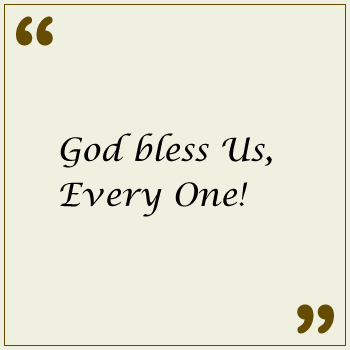 Related.
If you like this, we think you might also be interested in these related quotations:
Resources.
We have made our A Christmas Carol quotation slides (seen at the top of each quotation page) available to download for academic or other non-commercial purposes. Available as GIF images, the files can be used for presentation slides, flashcards, handouts etc. Dimensions are 1500 by 850 pixels. We make them free to download and use on the understanding they are not then sold or used for commercial purposes (and a credit to our site would be nice!).