Background.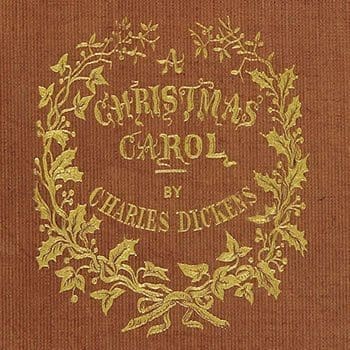 A Christmas Carol is a novella, or short story, written by Charles Dickens and first published in the Christmas of 1843. The allegorical tale tells the story of the transformation of the mean-spirited Ebenezer Scrooge through the visits of the spirit of his former business partner and three ghosts over the course of a Christmas Eve night. It remains a much-loved traditional Christmas tale.
Context.
Quotation said by Bob Cratchit, the underpaid clerk of Ebenezer Scrooge. Cratchit is sitting down to a family Christmas dinner and proposes a toast to his employer, for providing the money to buy the food before them.
This quotation reflects the kind attitude of Bob Cratchit. Despite being poorly paid and ill-treated at work (for example having to warm his hands on a candle) by the mean-spirited Scrooge, Cratchit is not resentful and instead is generous enough to propose this toast to show how grateful he his.
Mrs Catchit is a little less forgiving with her comments about Scrooge in her reply to Bob's toast (although agrees to drink to his health for the sake of Christmas)!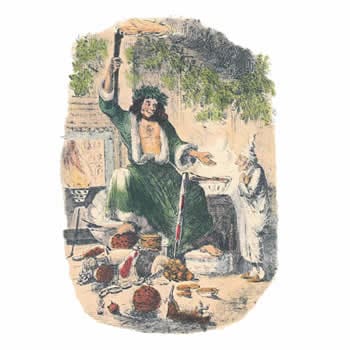 Bob Cratchit.
The abused, underpaid clerk of Ebenezer Scrooge, Bob Cratchit is a kind but very poor man with a large family and a very sick son, Tim. He works for Scrooge, copying letters in a cold dismal room, so small it is described as a sort of tank. Bring wintertime, he is forced to try and stay warm with thick clothes and heat himself by the flame of a candle. He wears tattered clothes as he cannot afford a coat. Cratchit is treated poorly by Scrooge and given a weekly salary that is insufficient to provide his family with a proper Christmas dinner. Despite these circumstances, Bob Cratchit represents the opposite qualities of Scrooge including kindness, generosity and the love of his family members.
Source.
Taken from the following passage in Stave 3 (The Second Of The Three Spirits) of A Christmas Carol:
Scrooge bent before the Ghost's rebuke, and trembling cast his eyes upon the ground. But he raised them speedily, on hearing his own name.

"Mr. Scrooge!" said Bob; "I'll give you Mr. Scrooge, the Founder of the Feast!"

"The Founder of the Feast indeed!" cried Mrs. Cratchit, reddening. "I wish I had him here. I'd give him a piece of my mind to feast upon, and I hope he'd have a good appetite for it."

"My dear," said Bob, "the children! Christmas Day."

"It should be Christmas Day, I am sure," said she, "on which one drinks the health of such an odious, stingy, hard, unfeeling man as Mr. Scrooge. You know he is, Robert! Nobody knows it better than you do, poor fellow!"

"My dear," was Bob's mild answer, "Christmas Day."

"I'll drink his health for your sake and the Day's," said Mrs. Cratchit, "not for his. Long life to him! A merry Christmas and a happy new year! He'll be very merry and very happy, I have no doubt!"

The children drank the toast after her. It was the first of their proceedings which had no heartiness. Tiny Tim drank it last of all, but he didn't care twopence for it. Scrooge was the Ogre of the family. The mention of his name cast a dark shadow on the party, which was not dispelled for full five minutes.
Have Your Say.
Give your view on 'I'll give you Mr. Scrooge, the Founder of the Feast!' with a rating and help us compile the very best Charles Dickens quotations.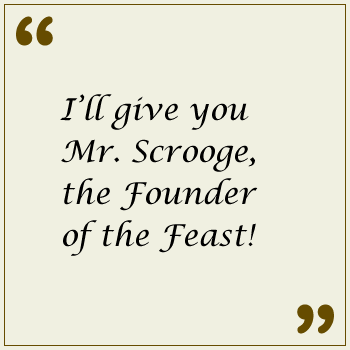 Related.
If you like this, we think you might also be interested in these related quotations: