Background.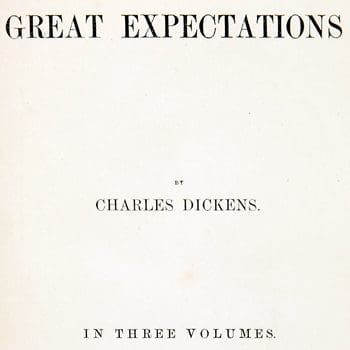 Context.
This quotation is a description of Abel Magwitch, as Pip encounters him in a Kent churchyard. Pip, who has come to visit the grave of his parents, is startled by Magwitch, an escaped convict who threatens to slit his throat if he screams.
Magwitch's appearance is disheveled looking after having just escaped from a prison hulk (ship) and swam ashore. He is in dark wet clothes and still has an iron clamp around one of his ankles, which would have been used to restrain him on the prison ship.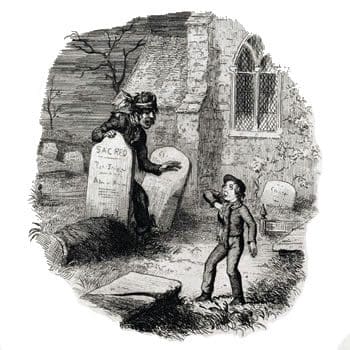 Chapter Summary.
Great Expectations Chapter 1.
Chapter 1 of Great Expectations introduces the protagonist and narrator of the story Philip Pirrip, but unable to pronounce his name I called myself Pip, and came to be called Pip. Pip is an orphan, who never knew his parents or any of his five brothers who died in infancy. He guesses what his parents might have looked like by the shape of the writing on the gravestones, writing my first fancies regarding what they were like were unreasonably derived from their tombstones. He lives with his sister, and her husband, Joe Gargery, a local blacksmith.
Great Expectations is written in the first person by an older Pip looking back on his childhood. Pip goes on to recall my first most vivid and broad impression of the identity of things, an incident when he was attacked in a churchyard as a young boy. It is a cold bleak day and Pip has visited an isolated churchyard set in an area of marshes. As he is paying respects at the graves of his parents and siblings late into the afternoon, Pip is suddenly startled by a fearful man, all in coarse grey, with a great iron on his leg, who shouts at him to keep still, you little devil, or I'll cut your throat! The man perches Pip on a gravestone and inverts him, disorientating the frightened boy as his eyes looked most powerfully down into mine, and mine looked most helplessly up into his. Pip is threatened with an unseen accomplice who will be watching him and ordered to return to a battery (fortified position) on the marshes the following morning, bringing with him some wittles (provisions) and a metal file.
Later in the story, we learn that Pip was aged I think in my seventh year when the incident in the churchyard occurred, that it happened on a Christmas Eve in the early part of the nineteenth century, and that the man who terrorized him was an escaped convict named Abel Magwitch.
Source.
Taken from the following passage in Chapter 1 of Great Expectations:
Ours was the marsh country, down by the river, within, as the river wound, twenty miles of the sea. My first most vivid and broad impression of the identity of things seems to me to have been gained on a memorable raw afternoon towards evening. At such a time I found out for certain that this bleak place overgrown with nettles was the churchyard; and that Philip Pirrip, late of this parish, and also Georgiana wife of the above, were dead and buried; and that Alexander, Bartholomew, Abraham, Tobias, and Roger, infant children of the aforesaid, were also dead and buried; and that the dark flat wilderness beyond the churchyard, intersected with dikes and mounds and gates, with scattered cattle feeding on it, was the marshes; and that the low leaden line beyond was the river; and that the distant savage lair from which the wind was rushing was the sea; and that the small bundle of shivers growing afraid of it all and beginning to cry, was Pip.

"Hold your noise!" cried a terrible voice, as a man started up from among the graves at the side of the church porch. "Keep still, you little devil, or I'll cut your throat!"

A fearful man, all in coarse grey, with a great iron on his leg. A man with no hat, and with broken shoes, and with an old rag tied round his head. A man who had been soaked in water, and smothered in mud, and lamed by stones, and cut by flints, and stung by nettles, and torn by briars; who limped, and shivered, and glared, and growled; and whose teeth chattered in his head as he seized me by the chin.

"Oh! Don't cut my throat, sir," I pleaded in terror. "Pray don't do it, sir."
Characters.
Abel Magwitch / Provis.
Like Pip, the convict Abel Magwitch is a character who follows a rags-to-riches story within Great Expectations. Originally incarcerated for his part in a plot to defraud Miss Havisham we first meet Magwitch after he escapes from a prison hulk and terrifies the young Pip whilst visiting the graves of his family in Kent churchyard. Magwitch is pursuing Compeyson, his accomplice in the fraud and who is treated more leniently. Pip aids Magwitch with food and tools, a gesture Magwitch will later handsomely repay. Magwitch is deported to Australia where he makes a fortune as a sheep farmer before returning, secretly, to England under the name Provis. In later life, Magwitch is revealed as a kinder man who has been helping Pip achieve his great expectations.
In screen adaptations of Great Expectations, the character of Abel Magwitch has been played by such actors as James Mason (1974 TV movie), Anthony Hopkins (1989 TV mini-series), Bernard Hill (1999 TV movie), Ray Winstone (2011-2012 TV-series) and Ralph Fiennes (2012 film).
Have Your Say.
Give your view on 'A fearful man, all in coarse grey, with a great iron on his leg' with a rating and help us compile the very best Charles Dickens quotations.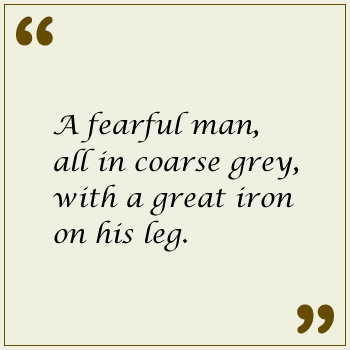 Related.
If you like this, we think you might also be interested in these related quotations: