Background.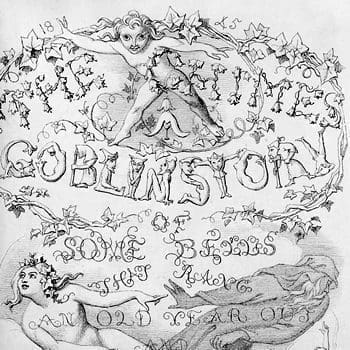 Source.
Description of Margaret Veck (more commonly known as Meg)..Margaret Veck is the 21-year-old daughter of the poor elderly messenger Toby Veck (more commonly known as Trotty). She is engaged to a young blacksmith, Richard.
Context.
Taken from the following passage in Chapter 1 (First Quarter) of The Chimes:
'It seems as if we can't go right, or do right, or be righted,' said Toby. 'I hadn't much schooling, myself, when I was young; and I can't make out whether we have any business on the face of the earth, or not. Sometimes I think we must have—a little; and sometimes I think we must be intruding. I get so puzzled sometimes that I am not even able to make up my mind whether there is any good at all in us, or whether we are born bad. We seem to be dreadful things; we seem to give a deal of trouble; we are always being complained of and guarded against. One way or other, we fill the papers. Talk of a New Year!' said Toby, mournfully. 'I can bear up as well as another man at most times; better than a good many, for I am as strong as a lion, and all men an't; but supposing it should really be that we have no right to a New Year—supposing we really are intruding—'

'Why, father, father!' said the pleasant voice again.

Toby heard it this time; started; stopped; and shortening his sight, which had been directed a long way off as seeking the enlightenment in the very heart of the approaching year, found himself face to face with his own child, and looking close into her eyes.

Bright eyes they were. Eyes that would bear a world of looking in, before their depth was fathomed. Dark eyes, that reflected back the eyes which searched them; not flashingly, or at the owner's will, but with a clear, calm, honest, patient radiance, claiming kindred with that light which Heaven called into being. Eyes that were beautiful and true, and beaming with Hope. With Hope so young and fresh; with Hope so buoyant, vigorous, and bright, despite the twenty years of work and poverty on which they had looked; that they became a voice to Trotty Veck, and said: 'I think we have some business here—a little!'

Trotty kissed the lips belonging to the eyes, and squeezed the blooming face between his hands.

'Why, Pet,' said Trotty. 'What's to do? I didn't expect you to-day, Meg.'

'Neither did I expect to come, father,' cried the girl, nodding her head and smiling as she spoke. 'But here I am! And not alone; not alone!'
Have Your Say.
Give your view on 'Eyes that would bear a world of looking in, before their depth was fathomed' with a rating and help us compile the very best Charles Dickens quotations.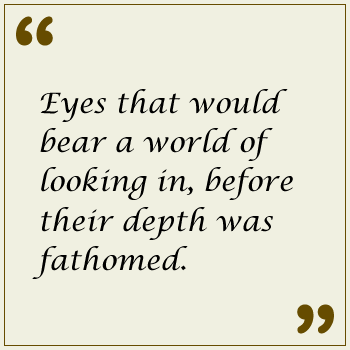 Related.
If you like this, we think you might also be interested in these related quotations: