Background.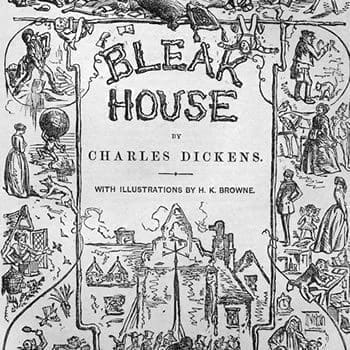 'I expect a judgment. Shortly.' is a quotation from Bleak House (Chapter 3).

Bleak House was the ninth novel by Charles Dickens, intended to illustrate the evils caused by long, drawn-out legal cases in the Court of Chancery.
Context.
Taken from the following passage in Chapter 3 of Bleak House:
When we got under the colonnade, Mr. Kenge remembered that he must go back for a moment to ask a question and left us in the fog, with the Lord Chancellor's carriage and servants waiting for him to come out.

"Well!" said Richard Carstone. "THAT'S over! And where do we go next, Miss Summerson?"

"Don't you know?" I said.

"Not in the least," said he.

"And don't YOU know, my love?" I asked Ada.

"No!" said she. "Don't you?"

"Not at all!" said I.

We looked at one another, half laughing at our being like the children in the wood, when a curious little old woman in a squeezed bonnet and carrying a reticule came curtsying and smiling up to us with an air of great ceremony.

"Oh!" said she. "The wards in Jarndyce! Ve-ry happy, I am sure, to have the honour! It is a good omen for youth, and hope, and beauty when they find themselves in this place, and don't know what's to come of it."

"Mad!" whispered Richard, not thinking she could hear him.

"Right! Mad, young gentleman," she returned so quickly that he was quite abashed. "I was a ward myself. I was not mad at that time," curtsying low and smiling between every little sentence. "I had youth and hope. I believe, beauty. It matters very little now. Neither of the three served or saved me. I have the honour to attend court regularly. With my documents. I expect a judgment. Shortly. On the Day of Judgment. I have discovered that the sixth seal mentioned in the Revelations is the Great Seal. It has been open a long time! Pray accept my blessing."
Have Your Say.
Give your view on 'I expect a judgment. Shortly.' with a rating and help us compile the very best Charles Dickens quotations.
Related.
If you like this, we think you might also be interested in these related quotations: