Background.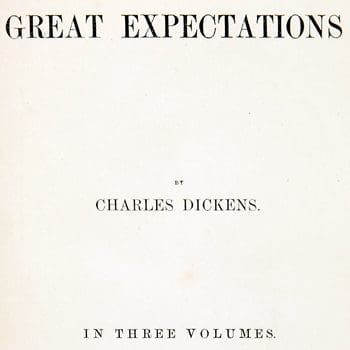 'You have been the embodiment of every graceful fancy that my mind has ever become acquainted with' is a quotation from Great Expectations (Chapter 44).
Context.
In this quotation, Pip tells Estella his true feelings for her after she reveals she is going to marry Bentley Drummle.
In Chapter 44 of Great Expectations, Pip has paid a visit to Satis House to see Miss Havisham and Estella. He confronts Miss Havisham for leading him to believe she was his benefactor. He then tells Estella his love for her but she tells him she intends to marry Bentley Drummle. Estella tries to placate Pip by reassuring him that that 'you will get me out of your thoughts in a week', to which he replies with this heartfelt quotation.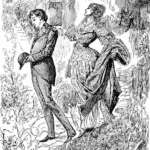 Source.
Taken from the following passage in Chapter 44 of Great Expectations:
I dropped my face into my hands, but was able to control myself better than I could have expected, considering what agony it gave me to hear her say those words. When I raised my face again, there was such a ghastly look upon Miss Havisham's, that it impressed me, even in my passionate hurry and grief.

"Estella, dearest Estella, do not let Miss Havisham lead you into this fatal step. Put me aside for ever,—you have done so, I well know,—but bestow yourself on some worthier person than Drummle. Miss Havisham gives you to him, as the greatest slight and injury that could be done to the many far better men who admire you, and to the few who truly love you. Among those few there may be one who loves you even as dearly, though he has not loved you as long, as I. Take him, and I can bear it better, for your sake!"

My earnestness awoke a wonder in her that seemed as if it would have been touched with compassion, if she could have rendered me at all intelligible to her own mind.

"I am going," she said again, in a gentler voice, "to be married to him. The preparations for my marriage are making, and I shall be married soon. Why do you injuriously introduce the name of my mother by adoption? It is my own act."

"Your own act, Estella, to fling yourself away upon a brute?"

"On whom should I fling myself away?" she retorted, with a smile. "Should I fling myself away upon the man who would the soonest feel (if people do feel such things) that I took nothing to him? There! It is done. I shall do well enough, and so will my husband. As to leading me into what you call this fatal step, Miss Havisham would have had me wait, and not marry yet; but I am tired of the life I have led, which has very few charms for me, and I am willing enough to change it. Say no more. We shall never understand each other."

"Such a mean brute, such a stupid brute!" I urged, in despair.

"Don't be afraid of my being a blessing to him," said Estella; "I shall not be that. Come! Here is my hand. Do we part on this, you visionary boy—or man?"

"O Estella!" I answered, as my bitter tears fell fast on her hand, do what I would to restrain them; "even if I remained in England and could hold my head up with the rest, how could I see you Drummle's wife?"

"Nonsense," she returned,—"nonsense. This will pass in no time."

"Never, Estella!"

"You will get me out of your thoughts in a week."

"Out of my thoughts! You are part of my existence, part of myself. You have been in every line I have ever read since I first came here, the rough common boy whose poor heart you wounded even then. You have been in every prospect I have ever seen since,—on the river, on the sails of the ships, on the marshes, in the clouds, in the light, in the darkness, in the wind, in the woods, in the sea, in the streets. You have been the embodiment of every graceful fancy that my mind has ever become acquainted with. The stones of which the strongest London buildings are made are not more real, or more impossible to be displaced by your hands, than your presence and influence have been to me, there and everywhere, and will be. Estella, to the last hour of my life, you cannot choose but remain part of my character, part of the little good in me, part of the evil. But, in this separation, I associate you only with the good; and I will faithfully hold you to that always, for you must have done me far more good than harm, let me feel now what sharp distress I may. O God bless you, God forgive you!"
Chapter Summary.
Pip has been helping Magwitch make plans to flee, but before he travels abroad resolves (Chapter 43) to visit Miss Havisham and Estella. In Chapter 44, Pip turns up at Satis House where he comes across a scene of domesticity, Miss Havisham sitting by the fire watching Estella, seated on a cushion at her feet, knitting. Pip tells Estella, with Miss Havisham present, that he is 'as unhappy as you can ever have meant me to be', and that he has discovered his real benefactor, but it is an unfortunate discovery. Pip confronts Miss Havisham for leading him to believe she was the benefactor of his fortune. Striking her stick with anger, Miss Havisham tells Pip 'who am I, for God's sake, that I should be kind?' Havisham insists that Pip 'made your own snares'. Pip asks Miss Havisham to continue to help Herbert Pocket. He pleads with her not to marry Drummle but she is unmoved, telling him that 'I am tired of the life I have led, which has very few charms for me, and I am willing enough to change it'. She tells him he will forget her soon enough, but Pip confesses his love to Estella, telling her 'you have been the embodiment of every graceful fancy that my mind has ever become acquainted with'. Disillusioned with his visit to Kent and not wanting to see Drummle again at the local inn, Pip returns early to London on foot, arriving after midnight. The chapter ends in a cliffhanger when Pip is handed a note, from Wemmick, warning him not to go home.
Characters.
Estella.
Estella is Miss Havisham's beautiful young ward. Although she grows up not knowing who her real parents are, Pip later discovers she is the child of the convict Abel Magwitch and Molly (who becomes Mr. Jagger's housekeeper). Mr. Jaggers secures the child a good future by placing Estella with Miss Havisham. Miss Havisham instills bitterness towards men in Estella, who does not return Pip's, or any other boy's, affections towards her. Estella is chased by and marries the cruel Bentley Drummle, but is later widowed. She is eventually changed by her experiences and time which brings Pip back into her life.
Jean Simmons, the British actress, and singer who became a leading Hollywood star, had her breakthrough playing the young Estella in David Lean's 1946 film adaptation of Great Expectations, alongside John Mills who played Pip. Over forty years later Simmons appeared in another adaptation of the novel, this time playing the role of Miss Havisham in a 1989 TV mini-series.
In a 2012 screen adaptation of Great Expectations, directed by Mike Newell, the character of Estella was played by Holliday Grainger. Grainger has more recently gone on to star as Robin Ellacott in the TV crime drama series Strike (aired in North America as C.B. Strike) based on the novels by J.K. Rowling (under the pseudonym Robert Galbraith).
Philip Pirrip (Pip).
Philip Pirrip, called Pip, is the protagonist and narrator in Charles Dickens's novel Great Expectations. He is amongst the most popular characters in English literature. Pip narrates his story many years after the events of the novel take place, starting as a young orphan boy being raised by his sister and brother-in-law in the marshes of north Kent. The novel follows Pip's progress from childhood innocence to adulthood, where we see a financial and social rise. But these fortunes are offset by an emotional and moral deterioration, which forces Pip to recognise his negative expectations in a new self-awareness.
My father's family name being Pirrip, and my Christian name Philip, my infant tongue could make of both names nothing longer or more explicit than Pip. So, I called myself Pip, and came to be called Pip.

Opening lines of Great Expectations.
In screen adaptations of Great Expectations, the character of Pip has been played by such actors as Jack Pickford (1917 film), John Mills (1946 film), Michael York (1974 TV movie), Ioan Gruffudd (1999 TV movie), and Jeremy Irvine (2012 film).
Have Your Say.
Give your view on 'You have been the embodiment of every graceful fancy that my mind has ever become acquainted with' with a rating and help us compile the very best Charles Dickens quotations.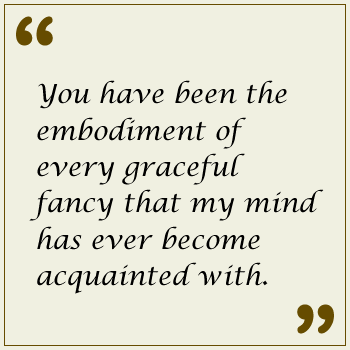 Related.
If you like this, we think you might also be interested in these related quotations: