Background.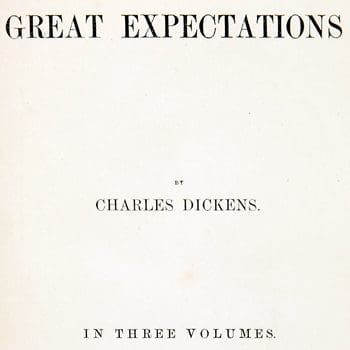 'Down banks and up banks, and over gates, and splashing into dikes, and breaking among coarse rushes: no man cared where he went' is a quotation from Great Expectations (Chapter 5).
Context.
This quotation describes the fervor of a manhunt in a scene early on in the novel Great Expectations. A party of soldiers are chasing down two convicts (Abel Magwitch and Compeyson) that have escaped from a nearby prison ship. The fugitives are known to be concealed somewhere on the marshes, near Pip's house. Pip, along with his step-brother Joe and Mr. Wopsle have joined the pursuit. Soon after, the hunters come across both criminals, fighting each other in a ditch.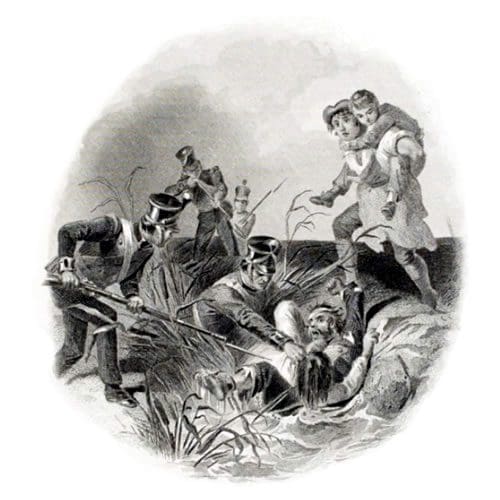 Chapter Summary.
Great Expectations Chapter 5.
Chapter 4 concluded with the arrival of a party of musket-carrying soldiers arriving at the Forge, as the Gargery's and guests are coming towards the end of their Christmas dinner. Chapter 5 continues with the Sergeant at the door, telling those inside that he needs a pair of handcuffs fixed by the blacksmith, and that the soldiers are pursuing two convicts 'pretty well known to be out on the marshes still'. Joe obliges by firing up the forge. After fixing the handcuffs, Joe, Pip and Mr. Wopsle join the soldiers on their manhunt. The party hear shouting from a ditch and rushing towards it find both convicts fighting in a ditch. The Sergeant rushes into the ditch telling them to surrender, joined soon after by fellow soldiers who drag both convicts apart from each other. Pip recognises them both from previous encounters but doesn't let on that he has met them. Pip refers to the convict he met at the church the previous day and brought food to as 'my convict'. Pip's convict tells the soldiers that instead of escaping himself, he remained to keep the other convict from getting away, telling them that 'he's a gentleman, if you please, this villain'. The other convict tells the soldiers that the other tried to murder him. The two convicts are escorted to a boat to be taken back to the prison hulk. Just before departing Pip's convict, having spotted Pip amongst the assembled crowd, confesses to the Sergeant that he stole food and a file from the Forge. Joe confirms that such items were taken. The chapter ends with the fugitives being taken across the water in a boat to be returned to the hulk, which Pip describes as being 'like a wicked Noah's ark'.
Later in the story, we learn that the convict Pip describes as 'my convict' is called Abel Magwitch, and that the other prisoner that he was fighting with was called Compeyson.
Source.
Taken from the following passage in Chapter 5 of Great Expectations:
With my heart thumping like a blacksmith at Joe's broad shoulder, I looked all about for any sign of the convicts. I could see none, I could hear none. Mr. Wopsle had greatly alarmed me more than once, by his blowing and hard breathing; but I knew the sounds by this time, and could dissociate them from the object of pursuit. I got a dreadful start, when I thought I heard the file still going; but it was only a sheep-bell. The sheep stopped in their eating and looked timidly at us; and the cattle, their heads turned from the wind and sleet, stared angrily as if they held us responsible for both annoyances; but, except these things, and the shudder of the dying day in every blade of grass, there was no break in the bleak stillness of the marshes.

The soldiers were moving on in the direction of the old Battery, and we were moving on a little way behind them, when, all of a sudden, we all stopped. For there had reached us on the wings of the wind and rain, a long shout. It was repeated. It was at a distance towards the east, but it was long and loud. Nay, there seemed to be two or more shouts raised together,—if one might judge from a confusion in the sound.

To this effect the sergeant and the nearest men were speaking under their breath, when Joe and I came up. After another moment's listening, Joe (who was a good judge) agreed, and Mr. Wopsle (who was a bad judge) agreed. The sergeant, a decisive man, ordered that the sound should not be answered, but that the course should be changed, and that his men should make towards it "at the double." So we slanted to the right (where the East was), and Joe pounded away so wonderfully, that I had to hold on tight to keep my seat.

It was a run indeed now, and what Joe called, in the only two words he spoke all the time, "a Winder." Down banks and up banks, and over gates, and splashing into dikes, and breaking among coarse rushes: no man cared where he went. As we came nearer to the shouting, it became more and more apparent that it was made by more than one voice. Sometimes, it seemed to stop altogether, and then the soldiers stopped. When it broke out again, the soldiers made for it at a greater rate than ever, and we after them. After a while, we had so run it down, that we could hear one voice calling "Murder!" and another voice, "Convicts! Runaways! Guard! This way for the runaway convicts!" Then both voices would seem to be stifled in a struggle, and then would break out again. And when it had come to this, the soldiers ran like deer, and Joe too.
Characters.
Philip Pirrip (Pip).
Philip Pirrip, called Pip, is the protagonist and narrator in Charles Dickens's novel Great Expectations. He is amongst the most popular characters in English literature. Pip narrates his story many years after the events of the novel take place, starting as a young orphan boy being raised by his sister and brother-in-law in the marshes of north Kent. The novel follows Pip's progress from childhood innocence to adulthood, where we see a financial and social rise. But these fortunes are offset by an emotional and moral deterioration, which forces Pip to recognise his negative expectations in a new self-awareness.
My father's family name being Pirrip, and my Christian name Philip, my infant tongue could make of both names nothing longer or more explicit than Pip. So, I called myself Pip, and came to be called Pip.

Opening lines of Great Expectations.
In screen adaptations of Great Expectations, the character of Pip has been played by such actors as Jack Pickford (1917 film), John Mills (1946 film), Michael York (1974 TV movie), Ioan Gruffudd (1999 TV movie), and Jeremy Irvine (2012 film).
Have Your Say.
Give your view on 'Down banks and up banks, and over gates, and splashing into dikes, and breaking among coarse rushes: no man cared where he went' with a rating and help us compile the very best Charles Dickens quotations.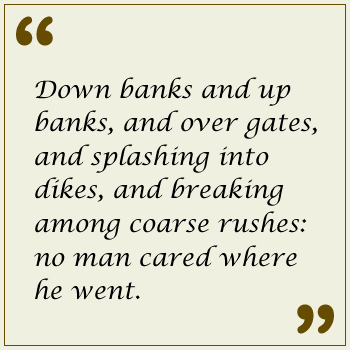 Related.
If you like this, we think you might also be interested in these related quotations: