Background.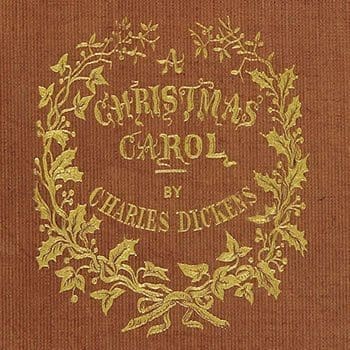 A Christmas Carol is a novella, or short story, written by Charles Dickens and first published in the Christmas of 1843. The allegorical tale tells the story of the transformation of the mean-spirited Ebenezer Scrooge through the visits of the spirit of his former business partner and three ghosts over the course of a Christmas Eve night. It remains a much-loved traditional Christmas tale.
Context.
The quote is said by some businessmen talking about the death of Ebenezer Scrooge who are joking about the lack of people likely to be at his funeral. The scene is set in the future and is shown to Ebenezer Scrooge by the Ghost of Christmas Yet to Come. At the time Scrooge, who recognises the men, doesn't understand who they are talking about.
Soon after this event, Scrooge is transported to the graveyard of a Church by the Ghost, who points at a tombstone. Scrooge see's that it is his own grave and realises that the men have been talking about his own death.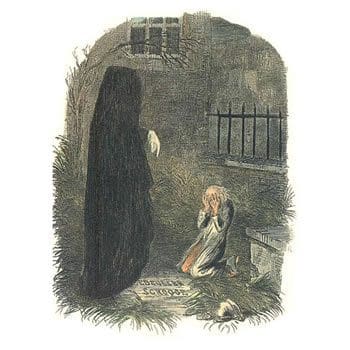 ---
Symbolism in A Christmas Carol: Scrooge's Death.
In Stave 4 of A Christmas Carol the Ghost of Christmas Yet to Come reveals to Ebenezer Scrooge a vision of the body of a man plundered and bereft, unmatched, unwept, uncared for. His possessions are robbed because no one is there to care for his dead body. Even the bed curtains, sheets and clothes are taken from around his lying body. In an impoverished part of the city, people are profiting from his death, selling items they have stolen. Who's the worse for the loss of a few things like these? Not a dead man, I suppose says a laundress who is selling items that belonged to Scrooge whilst a charwoman comments that he frightened every one away from him when he was alive, to profit us when he was dead! It is not just criminals that do not mourn his passing. We may sleep tonight with light hearts says a husband to his wife, both owing money to Scrooge but unhappy with his collection methods. A group of fellow businessmen have no sympathy for his passing. Old Scratch has got his own at last comments one. It's likely to be a very cheap funeral, another jokes, for upon my life I don't know of anybody to go to it, although one, in his own meanness, might be persuaded to attend for free food, saying I don't mind going if a lunch is provided. Even after death, Scrooge's legacy is one of remaining alone and uncared for, his grave unattended to in a neglected churchyard. Later in the Stave, Scrooge realises this vision of death is that of his own after he reads upon the stone of the neglected grave his own name. He is frightened into asking for help, falling down in front of the Ghost, begging it to assure me that I yet may change these shadows you have shown me, by an altered life! In this climax of the novella, the visions of his own death are a final wakening call that prompts Scrooge to seek redemption, telling the Ghost that I will honour Christmas in my heart, and try to keep it all the year. I will live in the Past, the Present, and the Future. The Spirits of all Three shall strive within me. I will not shut out the lessons that they teach.
---
Source.
Taken from the following passage in Stave 4 (The Last Of The Three Spirits) of A Christmas Carol:
The Spirit stopped beside one little knot of business men. Observing that the hand was pointed to them, Scrooge advanced to listen to their talk.

"No," said a great fat man with a monstrous chin, "I don't know much about it, either way. I only know he's dead."

"When did he die?" inquired another.

"Last night, I believe."

"Why, what was the matter with him?" asked a third, taking a vast quantity of snuff out of a very large snuff-box. "I thought he'd never die."

"God knows," said the first, with a yawn.

"What has he done with his money?" asked a red-faced gentleman with a pendulous excrescence on the end of his nose, that shook like the gills of a turkey-cock.

"I haven't heard," said the man with the large chin, yawning again. "Left it to his company, perhaps. He hasn't left it to me. That's all I know."

This pleasantry was received with a general laugh.

"It's likely to be a very cheap funeral," said the same speaker; "for upon my life I don't know of anybody to go to it. Suppose we make up a party and volunteer?"

"I don't mind going if a lunch is provided," observed the gentleman with the excrescence on his nose. "But I must be fed, if I make one."

Another laugh.

"Well, I am the most disinterested among you, after all," said the first speaker, "for I never wear black gloves, and I never eat lunch. But I'll offer to go, if anybody else will. When I come to think of it, I'm not at all sure that I wasn't his most particular friend; for we used to stop and speak whenever we met. Bye, bye!"

Speakers and listeners strolled away, and mixed with other groups. Scrooge knew the men, and looked towards the Spirit for an explanation.
Characters.
Ebenezer Scrooge.
Ebenezer Scrooge is one of the most famous characters created by Charles Dickens and arguably one of the most famous in English literature. The protagonist of A Christmas Carol, Scrooge is a cold-hearted and mean-spirited accountant. His business partner, the equally mean Jacob Marley, died seven years previous and he lives alone, having never married. Through a visit one Christmas Eve by the ghost of Marley and three subsequent spirits, Scrooge is awakened to his meanness and the impact it has on others.
The term Scrooge has entered the English Language to represent a mean person, known as a literary neologism. Neologisms are relatively recent terms, words, or phrases in the process of entering common use. Other examples of Dickens's neologisms include butterfingers (to mean a clumsy person) and doormat (a metaphor for taking advantage of a person).
In screen adaptations of A Christmas Carol, the character of Ebenezer Scrooge has been played by actors that include Alastair Sim (1951 film), Albert Finney (1970 musical film), Michael Hordern (1977 TV Movie), George C. Scott (1984 TV Movie), Michael Caine (1992 musical fantasy film), Patrick Stewart (1999 TV Movie) and Guy Pearce (2019 TV Mini-Series). Michael Hordern had previously appeared alongside Alastair Sim in the 1951 film (titled Scrooge), this time playing the character of Jacob Marley.
Have Your Say.
Give your view on 'I don't mind going if a lunch is provided' with a rating and help us compile the very best Charles Dickens quotations.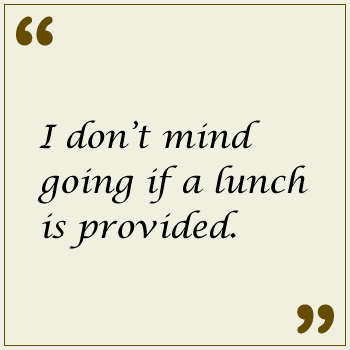 Related.
If you like this, we think you might also be interested in these related quotations: