Background.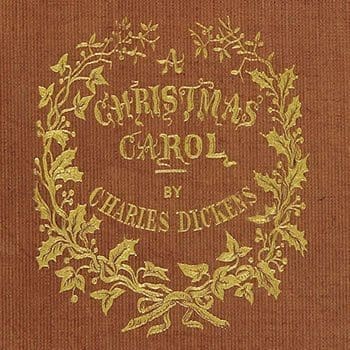 A Christmas Carol is a novella, or short story, written by Charles Dickens and first published in the Christmas of 1843. The allegorical tale tells the story of the transformation of the mean-spirited Ebenezer Scrooge through the visits of the spirit of his former business partner and three ghosts over the course of a Christmas Eve night. It remains a much-loved traditional Christmas tale.
Context.
This quotation reflects the miserly attitude of the lead character Ebenezer Scrooge, who prefers to walk up a wide stairs in the dark rather than spend money on lighting the way with a candle (A Christmas Carol was written before the days of electric light that we take for granted today). Scrooge even 'trims' the candle (cutting the wick to make it last longer) before climbing the stairs on his way to bed. Although Scrooge is wealthy he prefers not to spend money to the point of making his own life uncomfortable, such as maintaining a small fire at work and here, not properly lighting his way as he ascends a staircase.
Scrooge thinks he witnesses an apparition of a locomotive hearse (a funeral coach and set of horses) rushing past him as he climbs the stairs. He has already been spooked by thinking he has seen the face of his former business partner, Jacob Marley, in the door knocker as he arrived home, looking like a bad lobster in a dark cellar. Despite this, he still puts out the candle flame.
Dickens hints to the reader that the stairs that Scrooge is climbing in darkness are very wide, by suggesting that a funeral hearse could have gone up them sideways, with room to spare. The introduction of an apparent locomotive hearse rushing past Scrooge reinforces to the reader just how wide they are.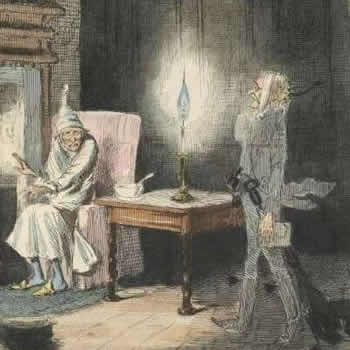 Source.
Taken from the following passage of Stave 1 (Marley's Ghost) of A Christmas Carol:
He fastened the door, and walked across the hall, and up the stairs; slowly too: trimming his candle as he went.

You may talk vaguely about driving a coach-and-six up a good old flight of stairs, or through a bad young Act of Parliament; but I mean to say you might have got a hearse up that staircase, and taken it broadwise, with the splinter-bar towards the wall and the door towards the balustrades: and done it easy. There was plenty of width for that, and room to spare; which is perhaps the reason why Scrooge thought he saw a locomotive hearse going on before him in the gloom. Half-a-dozen gas-lamps out of the street wouldn't have lighted the entry too well, so you may suppose that it was pretty dark with Scrooge's dip.

Up Scrooge went, not caring a button for that. Darkness is cheap, and Scrooge liked it. But before he shut his heavy door, he walked through his rooms to see that all was right. He had just enough recollection of the face to desire to do that.
Characters.
Ebenezer Scrooge.
Ebenezer Scrooge is one of the most famous characters created by Charles Dickens and arguably one of the most famous in English literature. The protagonist of A Christmas Carol, Scrooge is a cold-hearted and mean-spirited accountant. His business partner, the equally mean Jacob Marley, died seven years previous and he lives alone, having never married. Through a visit one Christmas Eve by the ghost of Marley and three subsequent spirits, Scrooge is awakened to his meanness and the impact it has on others.
The term Scrooge has entered the English Language to represent a mean person, known as a literary neologism. Neologisms are relatively recent terms, words, or phrases in the process of entering common use. Other examples of Dickens's neologisms include butterfingers (to mean a clumsy person) and doormat (a metaphor for taking advantage of a person).
In screen adaptations of A Christmas Carol, the character of Ebenezer Scrooge has been played by actors that include Alastair Sim (1951 film), Albert Finney (1970 musical film), Michael Hordern (1977 TV Movie), George C. Scott (1984 TV Movie), Michael Caine (1992 musical fantasy film), Patrick Stewart (1999 TV Movie) and Guy Pearce (2019 TV Mini-Series). Michael Hordern had previously appeared alongside Alastair Sim in the 1951 film (titled Scrooge), this time playing the character of Jacob Marley.
Jacob Marley.
In life, Jacob Marley was the business partner of Ebenezer Scrooge. Together, as the firm of Scrooge and Marley, they became successful yet hard-hearted bankers, with seats on the London Stock Exchange. Seven years to the day of his death, on a Christmas Eve, Marley's ghost visits Scrooge. Bound in chains and tormented, the ghost is doomed to wander the earth forever as punishment for his greed and selfishness when he was alive. Marley visits Scrooge to offer him redemption from his own fate, in the hope of changing his mean ways. He tells Scrooge that three spirits will visit that night.
Have Your Say.
Give your view on 'Darkness is cheap, and Scrooge liked it' with a rating and help us compile the very best Charles Dickens quotations.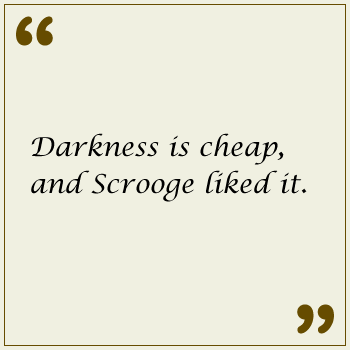 Related.
If you like this, we think you might also be interested in these related quotations: