Early Years.
William Wilkie Collins (1824 – 1889) was an English novelist, playwright, and author of short stories. His best-known works are The Woman in White, The Moonstone, Armadale, and No Name. After meeting fellow author Charles Dickens the two became close friends. A number of Collins's works were first published in the Dickens' journals All the Year Round and Household Words. The two collaborated on several dramatic and fictional works, and some of Collins's plays were performed by Dickens's amateur acting company.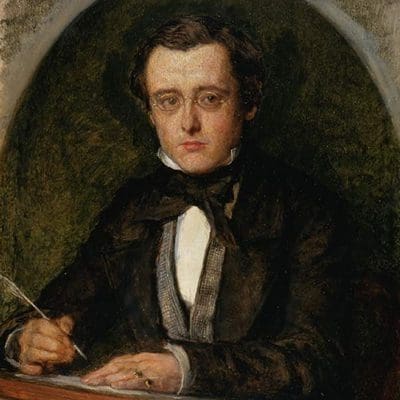 Wilkie Collins was born on 8 January 1824 into an artistic family. He was the elder son of William Collins, the celebrated landscape artist and portrait painter, and named after his godfather, David Wilkie. His first novel Iolani, or Tahiti as It Was; a Romance, was rejected by publishers in 1845. His next novel, Antonina, was published in 1850.
Charles Dickens and Wilkie Collins.
An instrumental event in Collins's career occurred in March 1851, when he was introduced to Charles Dickens by a mutual friend, the painter Augustus Egg. They became lifelong friends and collaborators. In May of that year, Collins acted with Dickens in Edward Bulwer-Lytton's play Not So Bad As We Seem. Among the audience were Queen Victoria and Prince Albert.
Collins's story A Terribly Strange Bed, his first contribution to Household Words, appeared in April 1852. In May 1852 he went on tour with Dickens's company of amateur actors, again performing Not So Bad As We Seem, but with a more substantial role. Collins's novel Basil was published by Bentley in November. During the writing of Hide and Seek, in early 1853, Collins suffered what was likely his first attack of gout, which plagued him for the rest of his life. He was ill from April until early July. He stayed with Dickens in Boulogne from July to September 1853, afterward touring Switzerland and Italy with Dickens and Augustus Egg from October to December. Collins published Hide and Seek in June 1854.
During this period Collins extended the variety of his writing, publishing articles in George Henry Lewes's paper The Leader, short stories and essays for Bentley's Miscellany, dramatic criticism, and the travel book Rambles Beyond Railways.
His first play, The Lighthouse was performed by Dickens's theatrical company at Tavistock House in 1855. His first collection of short stories, After Dark, was published by Smith, Elder in February 1856. His novel A Rogue's Life was serialised in Household Words in March 1856. Around this time, Collins began using laudanum to treat his gout. He became addicted to it, an addiction he struggled with later in life.
He joined the staff of Household Words in October 1856. In 1856-1857 he collaborated closely with Dickens on the play The Frozen Deep, first performed at Tavistock House. Collins's novel The Dead Secret was serialised in Household Words from January to June 1857 and published in volume form by Bradbury & Evans. Collins's play The Lighthouse was performed at the Olympic Theatre in August. The Lazy Tour of Two Idle Apprentices, based on Dickens's and Collins's walking tour in the north of England was serialised in Household Words in October 1857. In 1858 he collaborated with Dickens and other writers on the story A House to Let.
Later Years.
In 1858 Collins began living with Caroline Graves and her daughter Harriet. Caroline came from a humble family, having married young, had a child, and been widowed. Collins lived close to the small shop kept by Caroline, and the two may have met in the neighbourhood in the mid-1850s. He treated Harriet, who he called "Carrie", as his own daughter, and helped to provide for her education. Excepting one short separation, they lived together for the rest of Collins's life. Although Collins disliked the institution of marriage, he remained dedicated to Caroline and Harriet, considering them to be his family.
Collins published his best known works in the 1860s, achieving financial stability and an international reputation. During this time he began suffering from gout, and developed an addiction to opium, which he took (in the form of laudanum) for pain. He continued to publish novels and other works throughout the 1870s and 80s, but the quality of his writing declined along with his health. He died on 23 September 1889.