Alfred Tennyson (1809 – 1892), often referred to as Alfred Lord Tennyson, was Poet Laureate of Great Britain and Ireland during much of the Victorian era and remains one of the most popular British poets. Tennyson and Charles Dickens admired each others work and Tennyson was godfather to one of Dickens's children.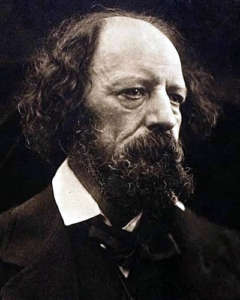 Alfred Tennyson was born on 5 August 1809 in Somersby, Lincolnshire, the son of the local rector, George Clayton Tennyson.
After William Wordsworth's death in 1850, Tennyson was appointed to the position of Poet Laureate. He held the position until his own death in 1892, by far the longest tenure of any laureate before or since.
Tennyson died at Aldwort, Berkshire on 6 October 1892 and was buried in the Poets' Corner in Westminster Abbey.
Charles Dickens and Alfred Tennyson.
Charles Dickens and Alfred Tennyson were friends, more so by mutual admiration and correspondence, and do not appear to have become particularly close.
In March 1843, Dickens sent Tennyson a set of his works and a letter of admiration. Shortly after the two met.
Alfred Tennyson was godfather to Charles Dickens's fourth son, Alfred D'Orsay Tennyson Dickens (1845 – 1912) and is partly named after him. He attended the christening at the church of St. Mary Marylebone in London on 21 April 1846.
In the Summer of 1857, Tennyson took his family on a holiday tour that included visiting Manchester. During this, on 31 July, Tennyson's parents went to hear Charles Dickens read from A Christmas Carol in the Free Trade Hall in Manchester.
In 1870, Tennyson attended the funeral of Charles Dickens at Westminster Abbey.
Further Reading.
Click here to view the Wikipedia entry for Alfred Tennyson.