These are some of the notable friends and companions of Charles Dickens during his lifetime:
William Harrison Ainsworth (1805 – 1882) was an English historical novelist and friend of Charles Dickens.
Angela Georgina Burdett-Coutts (1814 – 1906), was a nineteenth-century philanthropist who worked with Charles Dickens on a number of charitable projects, most notably the Urania Cottage home for fallen women.
Thomas Beard (1807 – 1891) and Charles Dickens were journalists together at The Morning Chronicle newspaper. One of Dickens's oldest friends, best man at his wedding, and godfather to his first child, Charles Culliford Boz Dickens.
Thomas Carlyle (1795 – 1881) was a Scottish philosopher, satirical writer, essayist, historian and teacher who became a close friend and inspiration for Charles Dickens.
John Payne Collier (1789 – 1883), was an English Shakespearian critic and forger. One of the oldest friends of Charles Dickens who worked with him at The Morning Chronicle.
Charles Allston Collins (1828 – 1873) was a British painter, writer, and illustrator. He was a friend of Charles Dickens and married to his daughter, Kate.
William Wilkie Collins (1824 – 1889) was a novelist, playwright, and author of short stories, best-known for works such as The Woman in White and The Moonstone. In 1851 he met Charles Dickens, and the two became close friends and a number of Collins's works were first published in Dickens's journals.
Augustus Leopold Egg (1816 – 1863) was a Victorian artist and friend of Charles Dickens. His is best known for his triptych paintings Past and Present.
John Forster (1812 – 1876), was an English writer, critic, and biographer. He was one of the most intimate friends of Charles Dickens and would go on to write a definitive three-volume biography after his death.
James Henry Leigh Hunt (1784 – 1859), best known as Leigh Hunt, was an English critic, essayist, poet, and writer.
Walter Savage Landor (1775 – 1864) was an English writer and poet. He became a good friend of Charles Dickens after they met in 1840 and godfather to Dickens's second son Walter Savage Landor Dickens.
Mark Lemon (1809 – 1870) was a noted writer and playwright, co-founder and editor of the satirical magazine Punch, and a close friend of Charles Dickens.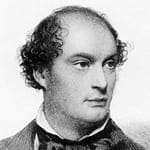 Daniel Maclise (1806 – 1870) was an Irish history, literary and portrait painter, and illustrator who designed illustrations for several of Dickens's Christmas books and other works.
William Charles Macready (1793 – 1873) was an English actor, generally acknowledged to be the greatest Shakespearian actor of the Victorian era. Charles Dickens named one of his daughters after him.
John Macrone (1809 – 1837) was a London publisher who worked with leading writers and illustrators of his day but died at the age of just 28. He was Charles Dickens's first publisher.
John Russell (1792 – 1878), more commonly referred to as Lord Russell, was a statesman who became Prime Minister twice. One of the few contemporary politicians admired by Charles Dickens, Russell was a political and educational reformer. Dickens's tenth novel A Tale of Two Cities is dedicated to Russell.
Clarkson Frederick Stanfield (1793 – 1867) was a prominent marine painter, friend of Charles Dickens who worked with him on creating scenery for plays and illustrations for his works.
Tennyson (1809 – 1892), often referred to as Alfred Lord Tennyson, was Poet Laureate of Great Britain and Ireland during much of the Victorian era and remains one of the most popular British poets. Although not intimate friends, Tennyson and Charles Dickens admired each others work and Tennyson was godfather to one of Dickens's children.
William Makepeace Thackeray (1811 – 1863) was a novelist famous for his satirical works, particularly Vanity Fair. Although friends, Charles Dickens and Thackeray publicly fell out at the time of his divorce.
Edmund Yates (1831 – 1894) was a British novelist and dramatist and friend of Charles Dickens who publicly defended him during the Garrick Club affair.