George Hogarth (1783 – 1870) was a Scottish newspaper editor, music critic, writer and the Father-in-Law of Charles Dickens.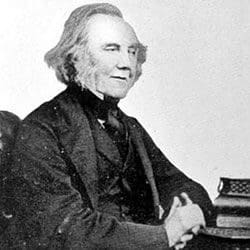 Early Life.
George Hogarth was born in Carfraemill on the Scottish Borders on 6 September 1783. He studied law and music at the University of Edinburgh and became a violoncellist and a composer, and acted as joint secretary to the Edinburgh Music Festival.
Hogarth practised law during the first two decades of the 19th century; counting among his clients Sir Walter Scott. On 30th May, 1814, Hogarth married Georgina Thomson, the daughter of music publisher and editor George Thomson, their marriage producing 14 children.
Between November 1832 and the winter of 1833, George Hogarth worked in Halifax as the editor of the recently established Halifax Guardian. After falling out with the proprietors, Hogarth resigned and secured a position as music and drama editor at The Morning Chronicle. It was here he would meet parliamentary reporter and fellow writer, Charles Dickens.
Death.
George Hogarth died in London on 12 February 1870, at the age of 86. He is buried in the Kensal Green Cemetery.
Further Reading.