Elizabeth Culliford Dickens (née Barrow) was the wife of John Dickens and the mother of Charles Dickens.
Early Life.
Elizabeth was born on 21 December 1789, one of ten children of Charles Barrow (1759–1826) and Mary Culliford (1771–1851).
Marriage to John Dickens.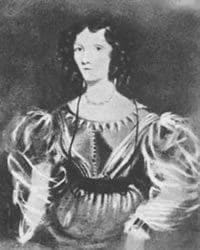 Elizabeth Barrow was introduced to John Dickens by her brother, Thomas Culliford Barrow, when the two men were working at the Navy Pay Office in Somerset House.
Elizabeth married John Dickens on 13 June 1809 in the church of St Mary-le-Strand in London. Shortly after the marriage the couple moved to Landport in Portsmouth.
It was at the Landport home that Charles Dickens, the second of their eight children, was born in 1812.
As a young boy Charles Dickens was taught to read by his mother, and later also a little Latin. Charles later told his friend and biographer John Forster that her teaching had awakened "his first desire for knowledge and his earliest passion for reading".
Use in Dickens characters.
Charles Dickens is said to have used his mother as the inspiration for the characters Mrs. Nickleby in his novel Nicholas Nickleby and for Mrs Micawber in David Copperfield.
Death.
Elizabeth Dickens died on 12 September 1863, aged 73. She is buried with her husband in Highgate Cemetery. On her gravestone Charles Dickens wrote the following epitaph:
HERE ALSO LIE THE REMAINS OF ELIZABETH DICKENS WHO DIED SEPTEMBER 12TH 1863 AGED 73 YEARS.