Charles Culliford Boz Dickens, or Charles Dickens Jr.,  (1837 – 1896), was the first of ten children from the marriage of English novelist Charles Dickens and his wife Catherine Hogarth. A failed businessman, he became the editor of his father's magazine All the Year Round, and a successful writer of dictionaries. He is now most remembered for his two 1879 books Dickens's Dictionary of London and Dickens's Dictionary of the Thames.
Birth.
Charles Dickens, Jr. was born on 6 January, at Furnival's Inn, Holborn, London. His godfather was Thomas Beard, one of Dickens's oldest friends who he had met as a fellow journalist at The Morning Chronicle newspaper. He was nicknamed 'Charley' by family and friends.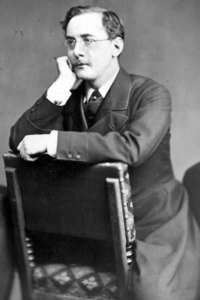 Life.
In 1847, aged 10, Charles Dickens, Jr. entered the junior department of King's College, London but was soon withdrawn after an outbreak of scarlet fever. He went on to study at Eton College and, in 1853, visited Leipzig to learn German.
In 1855, at the age of 18, he entered Barings Bank.
In 1858, after the separation of his parents Charles Dickens and Catherine, with his father's agreement, he went to live with his mother.
As a young man, Dickens showed skills that could have led to a career in journalism but his father encouraged him to go into business. With ambitions to become a tea merchant, he visited China, Hong Kong and Japan in 1860.
In 1861, he married Bessie Evans (born Elisabeth Matilda Moule Evans), daughter of Frederick Evans, his father's former publisher. They had 8 children.
In 1868, after the failure of his printing business, and bankruptcy, he was hired by his father to work at All the Year Round and was appointed sub-editor the following year. In 1870, after his father's death, Dickens, Jr. inherited the magazine and became its editor. At this time he also bought at auction Gads Hill Place, his father's Kent home, but he was forced to give it up in 1879.
In 1879 he published (jointly with his father-in-law) the first editions of his two main dictionaries, Dickens's Dictionary of London and Dickens's Dictionary of the Thames. In 1882 his dictionaries were picked up by Macmillan & Co. who also released his third dictionary, Dickens's Dictionary of Paris.
Death.
Charles Dickens, Jr. died of heart disease, at his home in Fulham, London, on 20 July 1896, aged 59. He was buried at Mortlake cemetery on 23 July 1896.