1869
---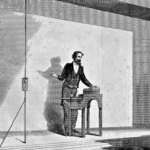 Farewell readings.
Charles Dickens begins the first of a series of final "farewell readings" to the public, beginning at London's St. James's Hall followed by a tour that includes Ireland, Scotland and England.
Dickens turns 57.
Charles Dickens's 57th birthday was on 7 February 1869.
Liverpool tribute.
After giving four nights of readings in Liverpool, the town honours Charles Dickens with a banquet, attended by the Lord Mayor and notable local people. Dickens was transported to the venue from his hotel in the Mayoral carriage [read speech].
Medical advice.
Whilst on his "farewell readings" tour, Charles Dickens is visited in Preston by his Doctor, Mr. Beard, and advised to discontinue readings.
Mold riot.
A riot breaks out in the Wales town of Mold following the trial of local colliery workers who were convicted of assaulting their manager. Soldiers called in to quell the protest kill 4 people with dozens left wounded.
NCH foundations.
A children's home was established in Church Street, in the London area of Waterloo, by Methodist minister Thomas Bowman Stephenson. The work expands nationwide into the charity National Children's Home (NCH), later renamed Action for Children.
Debtors Act.
Debtors Act abolishes indefinite imprisonment for civil debt.
Saxby Gale.
A tropical cyclone strikes eastern Canada's Bay of Fundy region killing over thirty people. The storm was named after Lieutenant Stephen Martin Saxby, a Royal Navy instructor who, based on his astronomical studies the previous year, had predicted extremely high tides that day.
Peabody dies.
Death of the American financier and philanthropist George Peabody at his London home. Born into a poor family in Massachusetts, Peabody went into business in dry goods and later into merchant banking. A social visionary, Peabody is considered by many to be the founder of modern philanthropy.
---