1864
---
Death of Walter Dickens.
Dickens receives the news of the death of his son, Walter, who died in India the previous month. Walter Savage Landor Dickens was born in February 1841 and named after Dickens's close friend Walter Savage Landor. He was the fourth child and second son of the ten children from the marriage of Charles Dickens and his wife Catherine Hogarth.
Dickens turns 52.
Charles Dickens's 52nd birthday was on 7 February 1864.
Second Schleswig War.
Denmark is involved in a war with Austro-Prussian alliance over sovereignty of the disputed Schleswig-Holstein region of Jutland.
Great Sheffield Flood.
The Dale Dike Dam bursts devastating the northern English town of Sheffield. At least 240 people are killed and more than 5,000 homes and businesses are damaged or destroyed.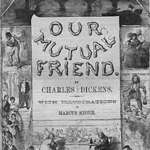 Our Mutual Friend.
Our Mutual Friend is published in monthly parts between May 1864 and November 1865. Our Mutual Friend was the fourteenth and last completed novel from Charles Dickens.
Abraham Lincoln re-elected.
In the United States, Abraham Lincoln is re-elected for a second term as President. He won by a huge electoral vote majority, taking 213 votes to his opponent's 21 and was the first president to be re-elected since Andrew Jackson in 1832. Just over six months later Lincoln was assassinated.
---