1848
---
Dickens turns 36.
Charles Dickens's 36th birthday was on 7 February 1848.
Paris Revolt.
The French Revolution of 1848, which would lead to the establishment of the French Second Republic, begins.
Hungarian Revolution.
The Hungarian Revolution breaks out against the absolutist rule of the Austrian Empire, ruled by the Habsburg monarchy.
Chartist Kennington demo.
A large mass meeting of Chartists is held on Kennington Common, London, believed to number 150,000 protestors.
Shakespeare benefit plays.
Charles Dickens and a group of amateur actor friends stages a number of charity performances of plays, including The Merry Wives of Windsor and Every Man in his Humour, in support of Shakespeare's House at Stratford-upon-Avon. Performances are put on at London, Manchester, Liverpool, Birmingham, Edinburgh and Glasgow.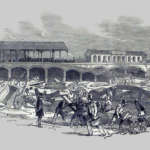 Waterloo opens.
The first passenger trains operate out of London's Waterloo railway station. The new station was built by the London and South-Western Railway to replace the previous terminus of their line in the metropolis at Nine Elms. Today, Waterloo is the busiest railway station in the United Kingdom.
Augustus marries.
Marriage of Augustus Dickens, the youngest brother of Charles Dickens, to Harriett Lovell at Trinity Church, Marylebone. Charles attends the service.
Brontë dies.
English novelist and poet Emily Brontë succumbs to tuberculosis at the age of 30. Emily, who published under the pen name Ellis Bell, is best known for her only novel, Wuthering Heights, now considered a classic of English literature.
Frederick marries.
At the close of the year, Frederick Dickens, the oldest brother of Charles Dickens, marries Anna Weller at Cheltenham. Charles disapproved of the relationship. The couple separated ten years later.
---