1831
---
Dickens turns 19.
Charles Dickens's 19th birthday was on 7 February 1831.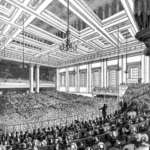 Exeter Hall.
Exeter Hall opens in London's Strand, designed to hold meetings for religious, benevolent and scientific institutions. A crowd of 3,500 people attend the celebrations.
King of the Belgiums.
Leopold I of Saxe-Coburg was inaugurated as the first King of Belgium.
William IV crowned.
Coronation of King William IV in Westminster Abbey. He had succeeded King George IV upon his death the previous June, and was the last king and penultimate monarch of Britain's House of Hanover. William reigned until his death in 1837 when he was succeeded by Queen Victoria.
Reform riots.
A proposed Reform Bill, which had passed through the House of Commons, is defeated by the House of Lords. The rejection sparks riots over subsequent days in several towns and cities, including London, Derby, Nottingham and Bristol.
Debts mount for John Dickens.
John Dickens declares himself an insolvent debtor for the second time.
Darwin sets sail.
Charles Darwin embarks on his historic voyage aboard HMS Beagle from Plymouth.
---