During 1827, Charles Dickens turned 15. At the time he was continuing his schooling at Wellington House Academy, London. However, shortly after his birthday the family fell behind with rent payments and were evicted. Dickens was pulled out of Wellington House, and in May, through connections made by his mother, he obtained work as a clerk at the law firm of Ellis and Blackmore at Gray's Inn in London's Holborn area. He would continue working here for the next eighteen months. While there, he started to learn shorthand reporting, a skill that led him into his writing career, firstly as a journalist and then as a novelist. In the evenings, Dickens enjoyed regularly attending the theatre. In November, Augustus Dickens, the youngest brother of Charles was born. His nickname in his younger years becomes the inspiration for Charles's pen name 'Boz' early on in his writing career.
---
Timeline of key events during the later childhood of Charles Dickens

.
10th birthday.
Charles Dickens's 10th birthday.
London move.
John Dickens is summoned back to Somerset House in London. The family move to Bayham Street in the Camden Town area. Charles Dickens remains in Chatham for around three months longer to complete his education with William Giles.
Martin's Act.
The United Kingdom introduces the world's first animal protection law with the passing of the Cruel Treatment of Cattle Act 1822. The act, which regulates the treatment of cows, horses and sheep, was pioneered by the politician and campaigner Richard Martin, so earned the nickname 'Martin's Act'.
Charles leaves Chatham.
In the autumn of 1822, Charles Dickens leaves Chatham and joins his family at Bayham Street in London's Camden Town area.
11th birthday.
Charles Dickens's 11th birthday.
Fanny attends Royal Academy of Music.
Fanny Dickens is enrolled at the Royal Academy of Music, where she will spend four years studying. Her enrolment, and the debts of John Dickens, means there is insufficient money to pay for the young Charles to get an education.
Gower Street North.
The Dickens family move to Gower Street North, a recently-built house in the Bloomsbury area of London. The property is only rented until 4 April 1824.
12th birthday.
Charles Dickens's 12th birthday.
Charles Dickens starts work.
Dickens family join John in the Marshalsea prison.
John Dickens released.
At the end of May 1824, John Dickens is released from the Marshalsea Prison, under the terms of the Insolvent Debtors' Act, after coming to an arrangement with his creditors. The Dickens family move in with family friend Mrs. Elizabeth Roylance in the Camden Town area of London.
Somers Town.
The Dickens family move from Mrs. Elizabeth Roylance's home to Johnson Street, Somers Town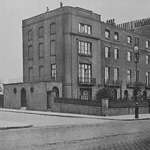 Wellington House Academy.
Around the early part of 1825, Charles Dickens is enrolled at the Wellington House Academy. The school was a short walk away for the young Charles from his family home in nearby Johnson Street.
13th birthday.
Charles Dickens's 13th birthday.
John Dickens retires.
An application by John Dickens to retire from the Navy Pay Office due to ill helth is granted. He is granted a pension of £145 a year.
London Financial Crash.
The first modern stock market crash in London occurs, caused in part by speculative investments in Latin America. Several London banks, and a small number of regional institutions, collapsed as a result.
Steam railway travel begins.
The Stockton and Darlington Railway opens to the public, the world's first public railway to use steam locomotives.
14th birthday.
Charles Dickens's 14th birthday.
15th birthday.
Charles Dickens's 15th birthday.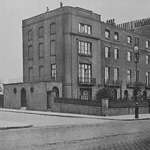 Charles leaves school.
Around Easter time of 1827, Charles Dickens leaves the Wellington House Academy after gaining work as a solicitor's clerk at Gray's Inn.
Ellis and Blackmore.
Charles Dickens starts work as a junior clerk in the offices of law firm Ellis and Blackmore, initially in Holborn Court, London, and later in the year at nearby Raymond Buildings.
Augustus Dickens born.
Augustus Newnham Dickens is born, the eighth and last child of John Dickens and Elizabeth Barrow. Charles Dicken's pen name of 'Boz' came from a family nickname of 'Moses' they gave to Augustus.
16th birthday.
Charles Dickens's 16th birthday.
17th birthday.
Charles Dickens's 17th birthday.
Catholic Emancipation.
The Roman Catholic Relief Act becomes law, removing the most substantial restrictions on Catholics in the United Kingdom, including the right to become a Member of Parliament and to hold most public offices.
Police start patrolling.
The first police officers of the new Metropolitan Police Service go on patrol in London.
18th birthday.
Charles Dickens's 18th birthday.
---