Background.
'I came into Smithfield; and the shameful place, being all asmear with filth and fat and blood and foam, seemed to stick to me' is a quotation from Great Expectations (Chapter 20).
Context.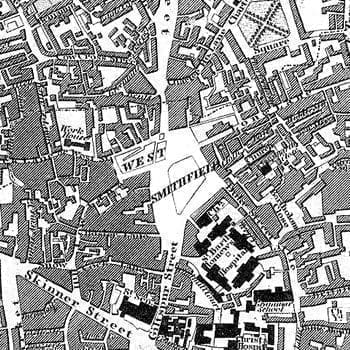 Quotation said by Pip who has arrived in London and visited the offices of the lawyer Mr. Jaggers. Finding him not available, his clerk Wemmick's advice is for Pip to visit Smithfield cattle market nearby.
In this quotation, Charles Dickens is describing the terrible conditions witnessed at the Smithfield livestock market in the Farringdon area of London. The livestock market had closed by the time of the publication of Great Expectations.

Smithfield was a live animal market and slaughter area serving the population of London from the 10th century and for over 800 years thereafter. In the Victorian period, pamphlets started circulating in favour of the removal of the livestock market and its relocation outside of the City, due to its extremely poor hygienic conditions as well as the brutal treatment of the cattle. The conditions at the market in the first half of the 19th century were often described as a major threat to public health.

In 1852, an Act of Parliament was passed for new cattle market should be constructed at Copenhagen Fields, Islington and the Metropolitan Cattle Market opened there three years later. West Smithfield remained as waste ground for about ten years before the construction of the new meat and poultry market selling meat that had been slaughtered beforehand. The market continues today.
Source.
Taken from the following passage in Chapter 20 of Great Expectations:
I sat down in the cliental chair placed over against Mr. Jaggers's chair, and became fascinated by the dismal atmosphere of the place. I called to mind that the clerk had the same air of knowing something to everybody else's disadvantage, as his master had. I wondered how many other clerks there were up-stairs, and whether they all claimed to have the same detrimental mastery of their fellow-creatures. I wondered what was the history of all the odd litter about the room, and how it came there. I wondered whether the two swollen faces were of Mr. Jaggers's family, and, if he were so unfortunate as to have had a pair of such ill-looking relations, why he stuck them on that dusty perch for the blacks and flies to settle on, instead of giving them a place at home. Of course I had no experience of a London summer day, and my spirits may have been oppressed by the hot exhausted air, and by the dust and grit that lay thick on everything. But I sat wondering and waiting in Mr. Jaggers's close room, until I really could not bear the two casts on the shelf above Mr. Jaggers's chair, and got up and went out.

When I told the clerk that I would take a turn in the air while I waited, he advised me to go round the corner and I should come into Smithfield. So I came into Smithfield; and the shameful place, being all asmear with filth and fat and blood and foam, seemed to stick to me. So, I rubbed it off with all possible speed by turning into a street where I saw the great black dome of Saint Paul's bulging at me from behind a grim stone building which a bystander said was Newgate Prison. Following the wall of the jail, I found the roadway covered with straw to deaden the noise of passing vehicles; and from this, and from the quantity of people standing about smelling strongly of spirits and beer, I inferred that the trials were on.

While I looked about me here, an exceedingly dirty and partially drunk minister of justice asked me if I would like to step in and hear a trial or so: informing me that he could give me a front place for half a crown, whence I should command a full view of the Lord Chief Justice in his wig and robes,—mentioning that awful personage like waxwork, and presently offering him at the reduced price of eighteen-pence. As I declined the proposal on the plea of an appointment, he was so good as to take me into a yard and show me where the gallows was kept, and also where people were publicly whipped, and then he showed me the Debtors' Door, out of which culprits came to be hanged; heightening the interest of that dreadful portal by giving me to understand that "four on 'em" would come out at that door the day after to-morrow at eight in the morning, to be killed in a row. This was horrible, and gave me a sickening idea of London; the more so as the Lord Chief Justice's proprietor wore (from his hat down to his boots and up again to his pocket-handkerchief inclusive) mildewed clothes which had evidently not belonged to him originally, and which I took it into my head he had bought cheap of the executioner. Under these circumstances I thought myself well rid of him for a shilling.
Characters.
Philip Pirrip (Pip).
Philip Pirrip, called Pip, is the protagonist and narrator in Charles Dickens's novel Great Expectations. He is amongst the most popular characters in English literature. Pip narrates his story many years after the events of the novel take place, starting as a young orphan boy being raised by his sister and brother-in-law in the marshes of north Kent. The novel follows Pip's progress from childhood innocence to adulthood, where we see a financial and social rise. But these fortunes are offset by an emotional and moral deterioration, which forces Pip to recognise his negative expectations in a new self-awareness.
My father's family name being Pirrip, and my Christian name Philip, my infant tongue could make of both names nothing longer or more explicit than Pip. So, I called myself Pip, and came to be called Pip.

Opening lines of Great Expectations.
In screen adaptations of Great Expectations, the character of Pip has been played by such actors as Jack Pickford (1917 film), John Mills (1946 film), Michael York (1974 TV movie), and Ioan Gruffudd (1999 TV movie).
Have Your Say.
Give your view on 'I came into Smithfield; and the shameful place, being all asmear with filth and fat and blood and foam, seemed to stick to me' with a rating and help us compile the very best Charles Dickens quotations.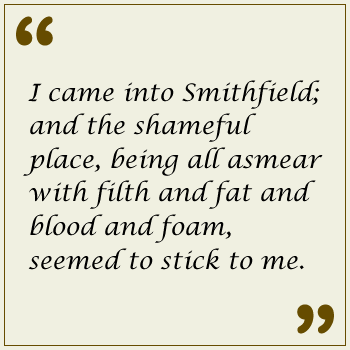 Related.
If you like this, we think you might also be interested in these related quotations: