Background.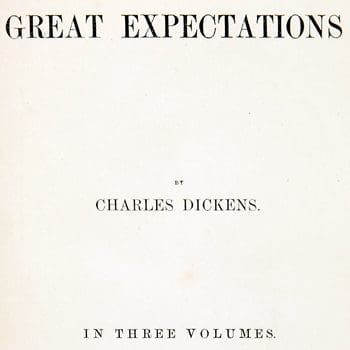 Context.
Quotation said by Estella to Pip. Pip, the narrator and main character of Great Expectations has started to pay visits to the house of Miss Havisham. There, he meets Miss Havisham's ward Estella, who he thinks is very pretty and seemed very proud.
Estella is very condescending towards the young Pip who she views as just a common boy. This is demonstrated here when the two play cards together and Estella mocks Pip for using the words Jacks in a card that she has been brought up to call Knaves. She then goes on to mock Pip's coarse hands and thick boots.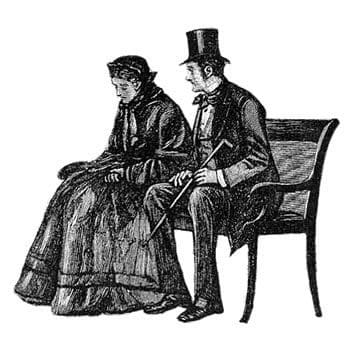 Source.
Taken from the following passage in Chapter 8 of Great Expectations:
"What do you play, boy?" asked Estella of myself, with the greatest disdain.

"Nothing but beggar my neighbour, miss."

"Beggar him," said Miss Havisham to Estella. So we sat down to cards.

It was then I began to understand that everything in the room had stopped, like the watch and the clock, a long time ago. I noticed that Miss Havisham put down the jewel exactly on the spot from which she had taken it up. As Estella dealt the cards, I glanced at the dressing-table again, and saw that the shoe upon it, once white, now yellow, had never been worn. I glanced down at the foot from which the shoe was absent, and saw that the silk stocking on it, once white, now yellow, had been trodden ragged. Without this arrest of everything, this standing still of all the pale decayed objects, not even the withered bridal dress on the collapsed form could have looked so like grave-clothes, or the long veil so like a shroud.

So she sat, corpse-like, as we played at cards; the frillings and trimmings on her bridal dress, looking like earthy paper. I knew nothing then of the discoveries that are occasionally made of bodies buried in ancient times, which fall to powder in the moment of being distinctly seen; but, I have often thought since, that she must have looked as if the admission of the natural light of day would have struck her to dust.

"He calls the knaves Jacks, this boy!" said Estella with disdain, before our first game was out. "And what coarse hands he has! And what thick boots!"

I had never thought of being ashamed of my hands before; but I began to consider them a very indifferent pair. Her contempt for me was so strong, that it became infectious, and I caught it.

She won the game, and I dealt. I misdealt, as was only natural, when I knew she was lying in wait for me to do wrong; and she denounced me for a stupid, clumsy labouring-boy.
Characters.
Estella.
Estella is Miss Havisham's beautiful young ward. Although she grows up not knowing who her real parents are, Pip later discovers she is the child of the convict Abel Magwitch and Molly (who becomes Mr. Jagger's housekeeper). Mr. Jaggers secures the child a good future by placing Estella with Miss Havisham. Miss Havisham instills bitterness towards men in Estella, who does not return Pip's, or any other boy's, affections towards her. Estella is chased by and marries the cruel Bentley Drummle, but is later widowed. She is eventually changed by her experiences and time which brings Pip back into her life.
Jean Simmons, the British actress, and singer who became a leading Hollywood star, had her breakthrough playing the young Estella in David Lean's 1946 film adaptation of Great Expectations, alongside John Mills who played Pip. Over forty years later Simmons appeared in another adaptation of the novel, this time playing the role of Miss Havisham in a 1989 TV mini-series.
In a 2012 screen adaptation of Great Expectations, directed by Mike Newell, the character of Estella was played by Holliday Grainger. Grainger has more recently gone on to star as Robin Ellacott in the TV crime drama series Strike (aired in North America as C.B. Strike) based on the novels by J.K. Rowling (under the pseudonym Robert Galbraith).
Philip Pirrip (Pip).
Philip Pirrip, called Pip, is the protagonist and narrator in Charles Dickens's novel Great Expectations. He is amongst the most popular characters in English literature. Pip narrates his story many years after the events of the novel take place, starting as a young orphan boy being raised by his sister and brother-in-law in the marshes of north Kent. The novel follows Pip's progress from childhood innocence to adulthood, where we see a financial and social rise. But these fortunes are offset by an emotional and moral deterioration, which forces Pip to recognise his negative expectations in a new self-awareness.
My father's family name being Pirrip, and my Christian name Philip, my infant tongue could make of both names nothing longer or more explicit than Pip. So, I called myself Pip, and came to be called Pip.

Opening lines of Great Expectations.
In screen adaptations of Great Expectations, the character of Pip has been played by such actors as Jack Pickford (1917 film), John Mills (1946 film), Michael York (1974 TV movie), Ioan Gruffudd (1999 TV movie), and Jeremy Irvine (2012 film).
Have Your Say.
Give your view on 'He calls the knaves Jacks, this boy!' with a rating and help us compile the very best Charles Dickens quotations.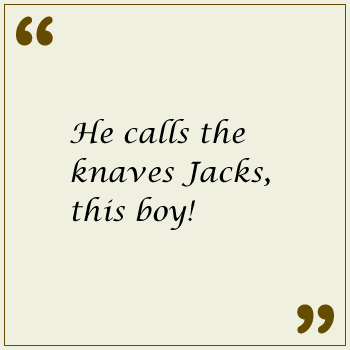 Related.
If you like this, we think you might also be interested in these related quotations: