Introduction.
The noted Victorian author Charles Dickens used his writings to attack a number of injustices that were personally close to him. One cause he reserved particularly harsh criticism was for individuals who styled themselves as philanthropists but whose charitable motives were more to serve their own vanity whilst arguably more deserving causes were ignored.
Dickens first poked fun at the missionary zeal of charity workers in one of his early journalistic pieces, the sketch The Ladies' Societies published in 1835. But it was to be nearly twenty years later that he revealed his harshest criticism with the publication of the novel Bleak House.
There were two classes of charitable people; one, the people who did a little and made a great deal of noise; the other, the people who did a great deal and made no noise at all.

Quotation said by the character John Jarndyce from the novel Bleak House (Chapter 8). Jarndyce, who is indirectly attacking the efforts of the character Mrs Pardiggle, takes the view that there is an inverse correlation between those who brag about how much charitable efforts they are doing (what we might call virtue-signalling today) and the actual work they achieve. This was Dickens view, and he used characters such as Jarndyce to convey this.
---
Bleak House.
In his 1852–3 novel Bleak House, Charles Dickens popularised the term telescopic philanthropy. He used the term, and stories within the novel, to criticise Victorian support for charitable projects afar whilst nearer to home millions of people were stuck in poverty. In the novel, Dickens brings in two characters, a Mrs Jellyby and a Mrs Pardiggle, both of whom have a zeal for Victorian philanthropy but at the expense of others. Jellyby ignores those closest to her whilst Pardiggle is bullying and harangues people into adopting her help. For both, philanthropy is more of a profession than born of genuine motivations to help.
At the time of writing Bleak House, Dickens was himself heavily involved with working with a philanthropist, the millionairess Angela Burdett-Coutts. However, far from dominating her philanthropic projects, Burdett-Coutts let Dickens desire for social reform manage many of the decisions whilst she bankrolled them.
---
Telescopic Philanthropy.
Chapter 4 of the novel Bleak House, in which Dickens highlighted the term Telescopic Philanthropy by using it as the chapter title, revolves around the character of Mrs. Jellyby.
Jellyby is obsessed with bettering an obscure African tribe but having little regard to her duties as wife and mother; or the notion of charity beginning at home. She spiritually abandons her family to work on a philanthropic project to help people far away who she has never seen, namely The Borrioboola-Gha venture in deepest darkest Africa. Jellyby's project ends in a gruesome manner when a local African chief attacks the project base and sells all the volunteers into slavery, using the proceeds to buy rum.
She has devoted herself to an extensive variety of public subjects at various times and is at present (until something else attracts her) devoted to the subject of Africa, with a view to the general cultivation of the coffee berry—AND the natives—and the happy settlement, on the banks of the African rivers, of our superabundant home population.

Description of Mrs. Jellyby and her philanthropic causes (Bleak House, Chapter 4).
Mrs. Jellyby seems to care little for her husband and children. Her oldest daughter is made to work constantly on philanthropic projects and sits in her ink-spattered dress building up bitterness and cynicism. The younger children are left to fend for themselves whilst her husband sinks into a suicidal despair. Her own family or for that matter poor of London are of little interest to her. Sadly, Mrs. Jellyby leans nothing from the failure of her African project and simply moves on to another philanthropic project, the cause of women's suffrage.
---
Charity begins at home.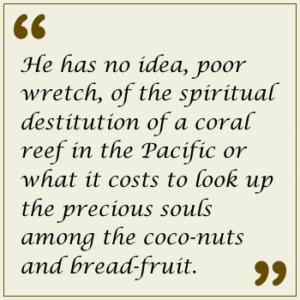 Dickens also presents the view from those who are in need whilst around them this telescopic philanthropy is going on. In a scene where the poor street-sweeper, Jo is leaving his home one morning in the slum Tom-all-Alone's (Chapter 16) he pauses on the steps of the Society for the Propagation of the Gospel in Foreign Parts where he stops to admire the 'size of the edifice' and eat a dirty piece of bread for his breakfast. Jo, who is illiterate has no idea "of the spiritual destitution of a coral reef in the Pacific or what it costs to look up the precious souls among the coco-nuts and bread-fruit".
Dickens is attacking the grand church and its mission, emphasised in its pompous name, whilst its sits next to a poor area where boys such as Jo barely have enough food to live on.
In a novel mainly attacking the legal system, Mrs Jellyby and Mrs Pardiggle in Bleak House are, respectively, guilty of 'telescopic philanthropy' and 'rapacious benevolence', neither of them helping to save the life of the child Jo, who dies of pneumonia.
---