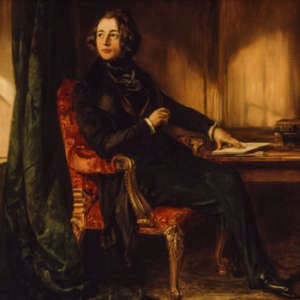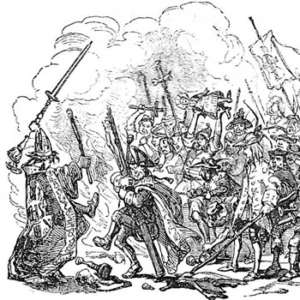 Historical Setting.
Barnaby Rudge is the first of Dickens's two historical novels (the other being A Tale of Two Cities) and is largely set around a backdrop of the Gordon Riots, in late eighteenth-century England, which saw several days of rioting motivated by anti-Catholic sentiment. A protest movement, led by Lord George Gordon, was unhappy with a 1778 Act of Parliament restoring some powers to Roman Catholics. In 1780, Gordon led a mob that marched on London, causing widespread rioting and looting, including the burning down of Newgate Prison.
Story.
The story begins in 1775 with Barnaby Rudge, his Mother, and his talking Raven Grip, fleeing their home from a blackmailer, and going into hiding. Joe Willet similarly finds he must leave his home to escape his Father's ire, leaving behind the woman he loves. Five years later these characters, and many others whose lives we have followed, find themselves caught up in the horrific Protestant rioting led by George Gordon.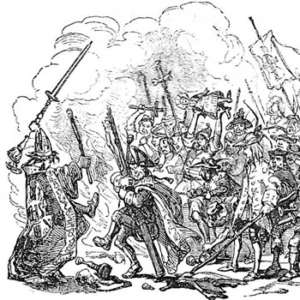 Characters.
The primary characters in Barnaby Rudge are The Rudges (Barnaby, a simple man, his loving mother Mary, and his companion Grip, the loquacious raven); The Willets (Old John, the keeper of the Maypole Inn, and his kindly son Joe). The Vardens (Gabriel, the locksmith, his manipulative wife Martha, and his beautiful daughter Dolly Varden). The Chesters (the villainous Sir John, Esquire, M.P. (Member of Parliament) and his innocent son Edward) and The Haredales (Mr Geoffrey Haredale (younger brother of the murdered Reuben), and his niece (Reuben's daughter) Emma).
Publication.
Charles Dickens first signed an agreement to produce a historical novel provisionally entitled 'Gabriel Varden, The Locksmith of London', in May 1836; when he was only 24. However, work commitments and a dispute with a publisher delayed the work for five years. Barnaby Rudge was originally titled Barnaby Rudge: A Tale of the Riots of 'Eighty and was published as a weekly serial in Master Humphrey's Clock, between February 1841 and November 1841. It was partly written whilst Dickens was living at Doughty Street in London. It was the fifth novel from Charles Dickens, coming after The Pickwick Papers (1836 – 1837), Oliver Twist (1837 – 1839), Nicholas Nickleby (1838 – 1839) and The Old Curiosity Shop (1840 – 1841).
Popular Culture.
Barnaby Rudge is one of the less popular novels of Charles Dickens and has rarely been adapted for film or television. Silent film versions were released in 1911 and 1915. In 1960, the BBC produced a thirteen-episode televised adaptation of the novel starring John Wood as Barnaby Rudge. In 2014, BBC Radio 4 chose it for their Classic Serial. Peter Ackroyd, a biographer of Dickens, has described Barnaby Rudge as 'one of Dickens's most neglected, but most rewarding, novels'.
Quotations.
Discover our fully referenced archive of Barnaby Rudge quotations. Read more about the context in which a quotation was written, explore profiles of characters that say them and have your chance to rate each.