Background.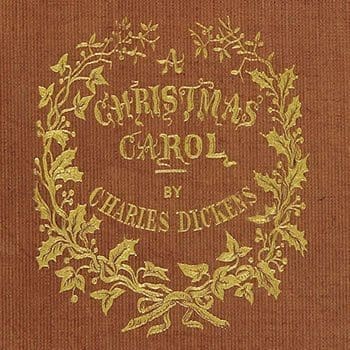 'Are these the shadows of the things that Will be, or are they shadows of the things that May be only?' is a quotation from A Christmas Carol (Stave 4).
A Christmas Carol is a novella, or short story, written by Charles Dickens and first published in the Christmas of 1843. The allegorical tale tells the story of the transformation of the mean-spirited Ebenezer Scrooge through the visits of the spirit of his former business partner and three ghosts over the course of a Christmas Eve night. It remains a much-loved traditional Christmas tale.
Context.
This quotation is said by Ebenezer Scrooge to the Ghost of Christmas Yet to Come. Scrooge has been transported to the graveyard of a Church by the Ghost, who points at a tombstone. Scrooge sees that it is his own grave.
In this quotation, Scrooge asks the Ghost of Christmas Yet to Come if the visions he witnesses will happen or may happen. Will happen suggests things that are certain to occur in Scrooge's future and therefore he cannot change. May happen suggests Scrooge has a choice of deciding his future path by his own actions. This gives him hope that he can yet redeem himself – from the fate of Jacob Marley and other visions he has been shown – by changing his ways.
Dickens uses capitals on the verbs will and may, even though they are mid-sentence, to place emphasis on the paths Scrooge has in life.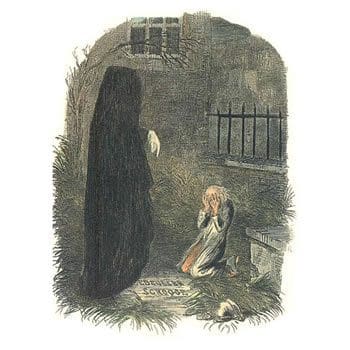 Literary Technique.
This is an example of Charles Dickens using the literary technique of capitalisation. Capitalisation (British English) or capitalization (North American English) is writing a word with its first letter as a capital letter (uppercase letter) and the remaining letters in lowercase the middle of a sentence. Generally, the first word of a new sentence is always written in capitals. Capitalisation of words is sometimes used by fiction authors as a form of literary device to strengthen a point or emotional reaction from their readers.
Source.
Taken from the following passage in Stave 4 (The Last Of The Three Spirits) of A Christmas Carol:
A churchyard. Here, then; the wretched man whose name he had now to learn, lay underneath the ground. It was a worthy place. Walled in by houses; overrun by grass and weeds, the growth of vegetation's death, not life; choked up with too much burying; fat with repleted appetite. A worthy place!

The Spirit stood among the graves, and pointed down to One. He advanced towards it trembling. The Phantom was exactly as it had been, but he dreaded that he saw new meaning in its solemn shape.

"Before I draw nearer to that stone to which you point," said Scrooge, "answer me one question. Are these the shadows of the things that Will be, or are they shadows of things that May be, only?"

Still the Ghost pointed downward to the grave by which it stood.

"Men's courses will foreshadow certain ends, to which, if persevered in, they must lead," said Scrooge. "But if the courses be departed from, the ends will change. Say it is thus with what you show me!"

The Spirit was immovable as ever.

Scrooge crept towards it, trembling as he went; and following the finger, read upon the stone of the neglected grave his own name, Ebenezer Scrooge.
Characters.
Ebenezer Scrooge.
Ebenezer Scrooge is one of the most famous characters created by Charles Dickens and arguably one of the most famous in English literature. The protagonist of A Christmas Carol, Scrooge is a cold-hearted and mean-spirited accountant. His business partner, the equally mean Jacob Marley, died seven years previous and he lives alone, having never married. Through a visit one Christmas Eve by the ghost of Marley and three subsequent spirits, Scrooge is awakened to his meanness and the impact it has on others.
The term Scrooge has entered the English Language to represent a mean person, known as a literary neologism. Neologisms are relatively recent terms, words, or phrases in the process of entering common use. Other examples of Dickens's neologisms include butterfingers (to mean a clumsy person) and doormat (a metaphor for taking advantage of a person).
In screen adaptations of A Christmas Carol, the character of Ebenezer Scrooge has been played by actors that include Alastair Sim (1951 film), Albert Finney (1970 musical film), Michael Hordern (1977 TV Movie), George C. Scott (1984 TV Movie), Michael Caine (1992 musical fantasy film), Patrick Stewart (1999 TV Movie) and Guy Pearce (2019 TV Mini-Series). Michael Hordern had previously appeared alongside Alastair Sim in the 1951 film (titled Scrooge), this time playing the character of Jacob Marley.
Ghost of Christmas Yet To Come.
The Ghost of Christmas Yet to Come (often referred to as The Ghost Of Christmas Future) is a darker phantom than the other two ghosts and the spirit that Scrooge finds the most fearsome. It appears to him as a figure entirely muffled in a black hooded cloak, except for a single hand with which it points. Although the character never speaks in the story, Scrooge understands it, usually through assumptions from his previous experiences and rhetorical questions. It looks the way it does because it represents what the future holds for Scrooge if he does not change his ways. The Ghost shows Scrooge visions including one of the Cratchit household without Tiny Tim inside, and of Scrooge's death, his body picked upon by thieves who show joy at his passing. The visions prove so horrific to Scrooge that he begs the ghost for them to stop.
Have Your Say.
Give your view on 'Are these the shadows of the things that Will be, or are they shadows of the things that May be only?' with a rating and help us compile the very best Charles Dickens quotations.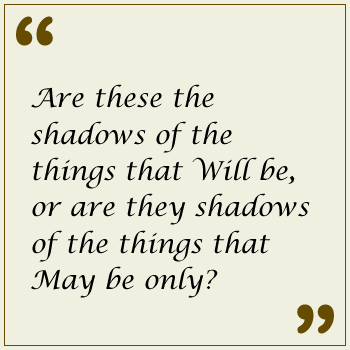 Related.
If you like this, we think you might also be interested in these related quotations: