Background.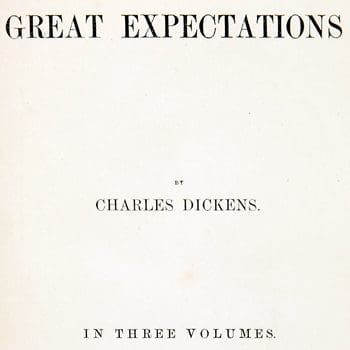 'All the times she had wished me in my grave, and I had contumaciously refused to go there' is a quotation from Great Expectations (Chapter 4).
Context.
This quotation is said by Pip, the first-person narrator of Great Expectations, describing scornful comments Mrs. Joe is making about him to guests assembled for a Christmas Day dinner when Pip was aged around seven years old.
Mrs. Hubble, the wife of a local wheelwright and one of the guests, suggests to Mrs. Joe that Pip has been trouble. Mrs. Joe, repeats the word 'trouble' back to her twice then launches into a tirade —which Pip describes as 'a fearful catalogue'— of disparaging remarks about her upbringing of Pip.
Although Mrs. Joe is Pip's much older sister, she is far from being a loving sibling to him. She regularly berates Pip despite him being only a young boy, viewing her guardianship of him as a burden, as seen in this quote. Mrs. Joe is both physically and emotionally abusive to both Pip and also her blacksmith husband.
.
.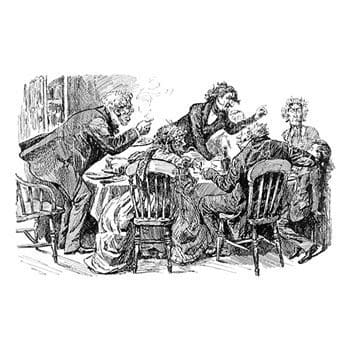 Chapter Summary.
Great Expectations Chapter 4.
Chapter 3 of Great Expectations concluded with Pip slipping off from meeting the escaped prisoner on the marshes and delivering food and a file to him. Chapter 4 begins with Pip back at home, wracked with guilt, and expecting to find a constable waiting for him but no one appears to have noticed the 'robbery'. Mrs. Joe asks Pip where he has been and he tells her he went to hear Carols. Preparations are being made for the Christmas Day dinner, consisting of 'pickled pork and greens, and a pair of roast stuffed fowls', along with a 'handsome mince-pie'. Pip and Joe visit Church, where Pip feels even more guilt, returning to find the dinner table prepared. The Gargery's are joined at the forge for Christmas dinner with Mr. Wopsle (the church clerk), Mr. Hubble (the wheelwright) and his wife, Mrs. Hubble, and Mr. Pumblechook (Joe's uncle and local seed merchant). Pip humourously describes some of the eccentric appearances and mannerisms of the guests. Sat down to dinner at a cramped kitchen table, the guests turn on Pip with their moralistic conversation so much that he compares himself to 'an unfortunate little bull in a Spanish arena'. At the end of the main course, Mrs. Joe suggests Pumblechook has a brandy. Pip, with worry, watches as he drinks it before jumping up out of his seat, and the house, in a coughing fit before shouting out 'Tar!'. Pip tells the reader that he topped up the brandy he took (to the escaped convict) with tar water. Pumblechook dismisses Mrs. Joe's worrying about how it got there, much to Pip's relief. Mrs. Joe suggests that her guests taste a savoury pork-pie, given by Pumblechook. Pip (who took the pie) can't bear his worry anymore and bolts for the door in fear of being discovered. As he does so, he runs right into a party of musket-carrying soldiers standing at the Gargery doorstep. Chapter 4 ends with one of the soldiers holding out a pair of handcuffs to a guilt-ridden Pip.
Source.
Taken from the following passage in Chapter 4 of Great Expectations:
Joe gave me some more gravy.

"Swine," pursued Mr. Wopsle, in his deepest voice, and pointing his fork at my blushes, as if he were mentioning my Christian name,—"swine were the companions of the prodigal. The gluttony of Swine is put before us, as an example to the young." (I thought this pretty well in him who had been praising up the pork for being so plump and juicy.) "What is detestable in a pig is more detestable in a boy."

"Or girl," suggested Mr. Hubble.

"Of course, or girl, Mr. Hubble," assented Mr. Wopsle, rather irritably, "but there is no girl present."

"Besides," said Mr. Pumblechook, turning sharp on me, "think what you've got to be grateful for. If you'd been born a Squeaker—"

"He was, if ever a child was," said my sister, most emphatically.

Joe gave me some more gravy.

"Well, but I mean a four-footed Squeaker," said Mr. Pumblechook. "If you had been born such, would you have been here now? Not you—"

"Unless in that form," said Mr. Wopsle, nodding towards the dish.

"But I don't mean in that form, sir," returned Mr. Pumblechook, who had an objection to being interrupted; "I mean, enjoying himself with his elders and betters, and improving himself with their conversation, and rolling in the lap of luxury. Would he have been doing that? No, he wouldn't. And what would have been your destination?" turning on me again. "You would have been disposed of for so many shillings according to the market price of the article, and Dunstable the butcher would have come up to you as you lay in your straw, and he would have whipped you under his left arm, and with his right he would have tucked up his frock to get a penknife from out of his waistcoat-pocket, and he would have shed your blood and had your life. No bringing up by hand then. Not a bit of it!"

Joe offered me more gravy, which I was afraid to take.

"He was a world of trouble to you, ma'am," said Mrs. Hubble, commiserating my sister.

"Trouble?" echoed my sister; "trouble?" and then entered on a fearful catalogue of all the illnesses I had been guilty of, and all the acts of sleeplessness I had committed, and all the high places I had tumbled from, and all the low places I had tumbled into, and all the injuries I had done myself, and all the times she had wished me in my grave, and I had contumaciously refused to go there.

I think the Romans must have aggravated one another very much, with their noses. Perhaps, they became the restless people they were, in consequence. Anyhow, Mr. Wopsle's Roman nose so aggravated me, during the recital of my misdemeanours, that I should have liked to pull it until he howled. But, all I had endured up to this time was nothing in comparison with the awful feelings that took possession of me when the pause was broken which ensued upon my sister's recital, and in which pause everybody had looked at me (as I felt painfully conscious) with indignation and abhorrence.

"Yet," said Mr. Pumblechook, leading the company gently back to the theme from which they had strayed, "Pork—regarded as biled—is rich, too; ain't it?"

"Have a little brandy, uncle," said my sister.
Characters.
Philip Pirrip (Pip).
Philip Pirrip, called Pip, is the protagonist and narrator in Charles Dickens's novel Great Expectations. He is amongst the most popular characters in English literature. Pip narrates his story many years after the events of the novel take place, starting as a young orphan boy being raised by his sister and brother-in-law in the marshes of north Kent. The novel follows Pip's progress from childhood innocence to adulthood, where we see a financial and social rise. But these fortunes are offset by an emotional and moral deterioration, which forces Pip to recognise his negative expectations in a new self-awareness.
My father's family name being Pirrip, and my Christian name Philip, my infant tongue could make of both names nothing longer or more explicit than Pip. So, I called myself Pip, and came to be called Pip.

Opening lines of Great Expectations.
In screen adaptations of Great Expectations, the character of Pip has been played by such actors as Jack Pickford (1917 film), John Mills (1946 film), Michael York (1974 TV movie), Ioan Gruffudd (1999 TV movie), and Jeremy Irvine (2012 film).
Mrs. Joe Gargery.
Mrs. Joe Gargery is Pip's much older and abusive sister in Great Expectations. She is named after her mother, Georgiana but generally referred to as simply 'Mrs. Joe' throughout the novel. Mrs. Joe is married to a Kent village blacksmith, Joe Gargery and they live in a house attached to the forge. After the death of his parents, Mrs. Joe is Pip's only family. Mrs. Joe is an angry and forceful woman who resents the burden of bringing Pip up 'by hand'. Her short temper reduces her to being violent towards Pip and Joe. Later in the story, Mrs. Joe is attacked by Orlick during a botched burglary, leaving her severely disabled.
In screen adaptations of Great Expectations, the character of Mrs. Joe has been played by such actors as Freda Jackson (1946 film), Rosemary McHale (1989 TV mini-series), Lesley Sharp (1999 TV movie), Claire Rushbrook (2011 TV mini-series), and Sally Hawkins (2012 movie).
Have Your Say.
Give your view on 'All the times she had wished me in my grave, and I had contumaciously refused to go there' with a rating and help us compile the very best Charles Dickens quotations.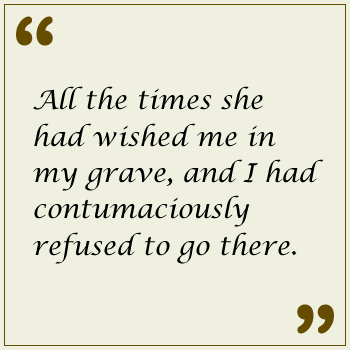 Related.
If you like this, we think you might also be interested in these related quotations: