Background.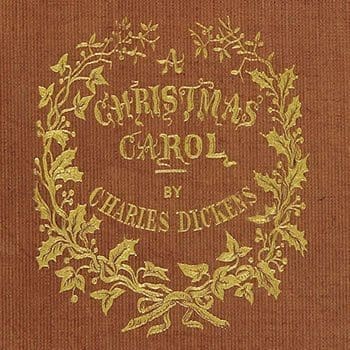 A Christmas Carol is a novella, or short story, written by Charles Dickens and first published in the Christmas of 1843. The allegorical tale tells the story of the transformation of the mean-spirited Ebenezer Scrooge through the visits of the spirit of his former business partner and three ghosts over the course of a Christmas Eve night. It remains a much-loved traditional Christmas tale.
Context.
This quotation is a description of the character Ebenezer Scrooge as a schoolboy. He has been left alone at his boarding school over at Christmas time, his fellow pupils having gone back to their respective families during the holiday period.
In Stave 2 of A Christmas Carol the Ghost of Christmas Past has taken Scrooge away from the city, travelling over the snow-laden countryside to a market town where Scrooge went to school. As they approach, the Spirt tells Scrooge that what he is witnessing are visions from the past and that the people they see are not aware of their presence. Scrooge cries upon seeing the vision of being abandoned at school.
This scene of loneliness as a child helps to explain the origins of Scrooge's solitary nature in adulthood. In Stave 1, Scrooge is described as being as solitary as an oyster and we can see that this comes from being abandoned as a child. It may also help to explain why Scrooge grew up with selfish characteristics, such as being hard and sharp as flint.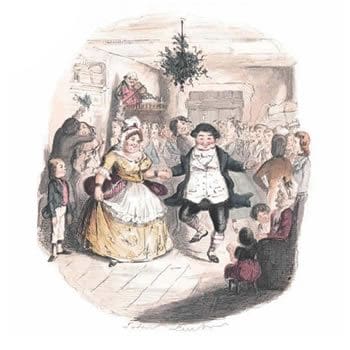 ---
Themes in A Christmas Carol: Isolation.
Charles Dickens portrays the theme of isolation early on in the novella A Christmas Carol in his descriptions and behaviour of the character Ebenezer Scrooge. Scrooge is described as secret, and self-contained, and solitary as an oyster. He is an ​outsider ​in society, highlighted by the sentence nobody ever stopped him in the street to say, with gladsome looks, "My dear Scrooge, how are you? We see that Scrooge's​ loneliness is self-inflicted. He prefers a business ledger to human company, rejecting the persistent attempts of his nephew Fred to invite him to join his remaining family on Christmas Day and rebuking him by saying keep Christmas in your own way, and let me keep it in mine. He lives in a gloomy suite of rooms in a run-down commercial yard, described as nobody lived in it but Scrooge. In scenes from his childhood shown by the Ghost of Christmas Past, we see why Scrooge might have developed his misanthropic ways. A school has broken up for Christmas but a solitary child, neglected by his friends, is left there. Scrooge weeps as he sees the figure of a lonely boy was reading near a feeble fire and recognises it as himself. Whilst we see other boys happily playing in fields during the holidays, Scrooge was abandoned at the school by his father. In a scene of a later Christmas Scrooge's younger sister Fan comes to collect him from the school, commenting that Father is so much kinder than he used to be. This sense of being abandoned as a child was one Charles Dickens had personal experience of. When he was twelve, Dickens was sent to work in a blacking factory, initially to help bring in money for the family after his father was imprisoned for debt. However, after his father was released and the debts paid off, the young Charles was still made to go out and work and missed a vital time that he should have been at school. Dickens always resented the way he had been treated by his parents, particularly as his sister was enrolled in a prestigious music school whilst he was forced to work.
---
Source.
Taken from the following passage in Stave 2 (The First Of The Three Spirits) of A Christmas Carol:
The Spirit gazed upon him mildly. Its gentle touch, though it had been light and instantaneous, appeared still present to the old man's sense of feeling. He was conscious of a thousand odours floating in the air, each one connected with a thousand thoughts, and hopes, and joys, and cares long, long, forgotten!

"Your lip is trembling," said the Ghost. "And what is that upon your cheek?"

Scrooge muttered, with an unusual catching in his voice, that it was a pimple; and begged the Ghost to lead him where he would.

"You recollect the way?" inquired the Spirit.

"Remember it!" cried Scrooge with fervour; "I could walk it blindfold."

"Strange to have forgotten it for so many years!" observed the Ghost. "Let us go on."

They walked along the road, Scrooge recognising every gate, and post, and tree; until a little market-town appeared in the distance, with its bridge, its church, and winding river. Some shaggy ponies now were seen trotting towards them with boys upon their backs, who called to other boys in country gigs and carts, driven by farmers. All these boys were in great spirits, and shouted to each other, until the broad fields were so full of merry music, that the crisp air laughed to hear it!

"These are but shadows of the things that have been," said the Ghost. "They have no consciousness of us."

The jocund travellers came on; and as they came, Scrooge knew and named them every one. Why was he rejoiced beyond all bounds to see them! Why did his cold eye glisten, and his heart leap up as they went past! Why was he filled with gladness when he heard them give each other Merry Christmas, as they parted at cross-roads and bye-ways, for their several homes! What was merry Christmas to Scrooge? Out upon merry Christmas! What good had it ever done to him?

"The school is not quite deserted," said the Ghost. "A solitary child, neglected by his friends, is left there still."

Scrooge said he knew it. And he sobbed.

They left the high-road, by a well-remembered lane, and soon approached a mansion of dull red brick, with a little weathercock-surmounted cupola, on the roof, and a bell hanging in it. It was a large house, but one of broken fortunes; for the spacious offices were little used, their walls were damp and mossy, their windows broken, and their gates decayed. Fowls clucked and strutted in the stables; and the coach-houses and sheds were over-run with grass. Nor was it more retentive of its ancient state, within; for entering the dreary hall, and glancing through the open doors of many rooms, they found them poorly furnished, cold, and vast. There was an earthy savour in the air, a chilly bareness in the place, which associated itself somehow with too much getting up by candle-light, and not too much to eat.

They went, the Ghost and Scrooge, across the hall, to a door at the back of the house. It opened before them, and disclosed a long, bare, melancholy room, made barer still by lines of plain deal forms and desks. At one of these a lonely boy was reading near a feeble fire; and Scrooge sat down upon a form, and wept to see his poor forgotten self as he used to be.

Not a latent echo in the house, not a squeak and scuffle from the mice behind the panelling, not a drip from the half-thawed water-spout in the dull yard behind, not a sigh among the leafless boughs of one despondent poplar, not the idle swinging of an empty store-house door, no, not a clicking in the fire, but fell upon the heart of Scrooge with a softening influence, and gave a freer passage to his tears.

The Spirit touched him on the arm, and pointed to his younger self, intent upon his reading. Suddenly a man, in foreign garments: wonderfully real and distinct to look at: stood outside the window, with an axe stuck in his belt, and leading by the bridle an ass laden with wood.
Characters.
Ebenezer Scrooge.
Ebenezer Scrooge is one of the most famous characters created by Charles Dickens and arguably one of the most famous in English literature. The protagonist of A Christmas Carol, Scrooge is a cold-hearted and mean-spirited accountant. His business partner, the equally mean Jacob Marley, died seven years previous and he lives alone, having never married. Through a visit one Christmas Eve by the ghost of Marley and three subsequent spirits, Scrooge is awakened to his meanness and the impact it has on others.
The term Scrooge has entered the English Language to represent a mean person, known as a literary neologism. Neologisms are relatively recent terms, words, or phrases in the process of entering common use. Other examples of Dickens's neologisms include butterfingers (to mean a clumsy person) and doormat (a metaphor for taking advantage of a person).
In screen adaptations of A Christmas Carol, the character of Ebenezer Scrooge has been played by actors that include Alastair Sim (1951 film), Albert Finney (1970 musical film), Michael Hordern (1977 TV Movie), George C. Scott (1984 TV Movie), Michael Caine (1992 musical fantasy film), Patrick Stewart (1999 TV Movie) and Guy Pearce (2019 TV Mini-Series). Michael Hordern had previously appeared alongside Alastair Sim in the 1951 film (titled Scrooge), this time playing the character of Jacob Marley.
Ghost of Christmas Past.
The Ghost of Christmas Past is the first of the three spirits to haunt Ebenezer Scrooge. This angelic spirit shows Scrooge scenes from his past that occurred on or around Christmas, in order to demonstrate to him the necessity of changing his ways, as well as to show the reader how Scrooge came to be a bitter, cold-hearted miser. This includes his childhood and school days, his apprenticeship with the jovial Fezziwig, and his engagement with Belle.
Have Your Say.
Give your view on 'A solitary child, neglected by his friends, is left there' with a rating and help us compile the very best Charles Dickens quotations.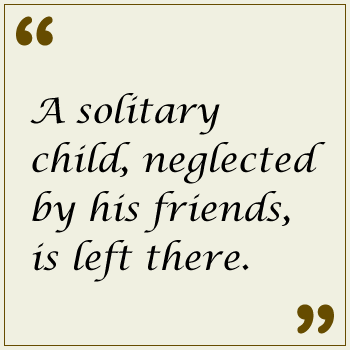 Related.
If you like this, we think you might also be interested in these related quotations: