Background.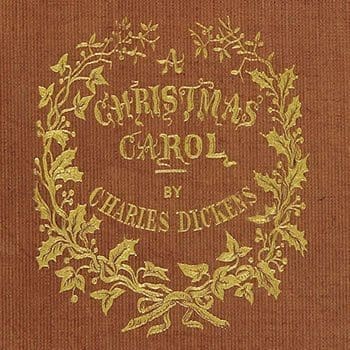 'A positive light appeared to issue from Fezziwig's calves. They shone in every part of the dance like moons' is a quotation from A Christmas Carol (Stave 2).
A Christmas Carol is a novella, or short story, written by Charles Dickens and first published in the Christmas of 1843. The allegorical tale tells the story of the transformation of the mean-spirited Ebenezer Scrooge through the visits of the spirit of his former business partner and three ghosts over the course of a Christmas Eve night. It remains a much-loved traditional Christmas tale.
Context.
This quotation is a humourous description of the appearance of Fezziwig's legs during some deftly dancing. The positive light appeared to issue from Fezziwig's calves … . shone in every part of the dance like moons is the effect of his light-colored trousers being reflected in the light of the room. We have already learned that lamps around the warehouse have been trimmed (i.e. cleaned to make them brighter) and extra fuel heaped on the fire. The roaring flames and light from the lamps is giving a warm glow to people in the room, including this reflection effect on Fezziwig's calves.
Fezziwig is described as a very good dancer and the speed of his movements, combined with this lighting effect, gives rise to Dickens also humourously describing that it produces the appearance of looking like his legs winked.
The dancing is at a party in a vision from the past being shown to Scrooge by the Ghost of Christmas Past. The Ghost has taken Scrooge to watch the party so he can see how much joy Fezziwig brings to others through his party. The Ghost points out to Scrooge how it doesn't take much effort to make the people appreciative, Fezziwig only needing to have "spent but a few pounds of your mortal money".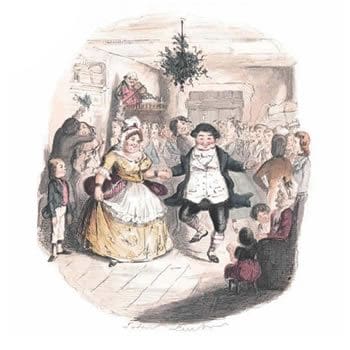 Literary Technique.
This is an example of the figurative language Charles Dickens uses in his works, here using the literary technique of hyperbole (exaggerated language) in the form of a simile to compare the top of Fezziwig's legs to shine like moons. The use of similes helps an author to strengthen a description, and for the reader helps to better visualize a character or scene in their heads. Dickens is particularly comparing the characteristic of the colour of the larger part of his legs (i.e. calves) reflected in the bright light from the flames and lamps around the room.

Source.
Taken from the following passage in Stave 2 (The First Of The Three Spirits) of A Christmas Carol:
In came a fiddler with a music-book, and went up to the lofty desk, and made an orchestra of it, and tuned like fifty stomach-aches. In came Mrs. Fezziwig, one vast substantial smile. In came the three Miss Fezziwigs, beaming and lovable. In came the six young followers whose hearts they broke. In came all the young men and women employed in the business. In came the housemaid, with her cousin, the baker. In came the cook, with her brother's particular friend, the milkman. In came the boy from over the way, who was suspected of not having board enough from his master; trying to hide himself behind the girl from next door but one, who was proved to have had her ears pulled by her mistress. In they all came, one after another; some shyly, some boldly, some gracefully, some awkwardly, some pushing, some pulling; in they all came, anyhow and everyhow. Away they all went, twenty couple at once; hands half round and back again the other way; down the middle and up again; round and round in various stages of affectionate grouping; old top couple always turning up in the wrong place; new top couple starting off again, as soon as they got there; all top couples at last, and not a bottom one to help them! When this result was brought about, old Fezziwig, clapping his hands to stop the dance, cried out, "Well done!" and the fiddler plunged his hot face into a pot of porter, especially provided for that purpose. But scorning rest, upon his reappearance, he instantly began again, though there were no dancers yet, as if the other fiddler had been carried home, exhausted, on a shutter, and he were a bran-new man resolved to beat him out of sight, or perish.

There were more dances, and there were forfeits, and more dances, and there was cake, and there was negus, and there was a great piece of Cold Roast, and there was a great piece of Cold Boiled, and there were mince-pies, and plenty of beer. But the great effect of the evening came after the Roast and Boiled, when the fiddler (an artful dog, mind! The sort of man who knew his business better than you or I could have told it him!) struck up "Sir Roger de Coverley." Then old Fezziwig stood out to dance with Mrs. Fezziwig. Top couple, too; with a good stiff piece of work cut out for them; three or four and twenty pair of partners; people who were not to be trifled with; people who would dance, and had no notion of walking.

But if they had been twice as many—ah, four times—old Fezziwig would have been a match for them, and so would Mrs. Fezziwig. As to her, she was worthy to be his partner in every sense of the term. If that's not high praise, tell me higher, and I'll use it. A positive light appeared to issue from Fezziwig's calves. They shone in every part of the dance like moons. You couldn't have predicted, at any given time, what would have become of them next. And when old Fezziwig and Mrs. Fezziwig had gone all through the dance; advance and retire, both hands to your partner, bow and curtsey, corkscrew, thread-the-needle, and back again to your place; Fezziwig "cut"—cut so deftly, that he appeared to wink with his legs, and came upon his feet again without a stagger.

When the clock struck eleven, this domestic ball broke up. Mr. and Mrs. Fezziwig took their stations, one on either side of the door, and shaking hands with every person individually as he or she went out, wished him or her a Merry Christmas. When everybody had retired but the two 'prentices, they did the same to them; and thus the cheerful voices died away, and the lads were left to their beds; which were under a counter in the back-shop.

During the whole of this time, Scrooge had acted like a man out of his wits. His heart and soul were in the scene, and with his former self. He corroborated everything, remembered everything, enjoyed everything, and underwent the strangest agitation. It was not until now, when the bright faces of his former self and Dick were turned from them, that he remembered the Ghost, and became conscious that it was looking full upon him, while the light upon its head burnt very clear.

"A small matter," said the Ghost, "to make these silly folks so full of gratitude."

"Small!" echoed Scrooge.

The Spirit signed to him to listen to the two apprentices, who were pouring out their hearts in praise of Fezziwig: and when he had done so, said,

"Why! Is it not? He has spent but a few pounds of your mortal money: three or four perhaps. Is that so much that he deserves this praise?"

"It isn't that," said Scrooge, heated by the remark, and speaking unconsciously like his former, not his latter, self. "It isn't that, Spirit. He has the power to render us happy or unhappy; to make our service light or burdensome; a pleasure or a toil. Say that his power lies in words and looks; in things so slight and insignificant that it is impossible to add and count 'em up: what then? The happiness he gives, is quite as great as if it cost a fortune."

He felt the Spirit's glance, and stopped.
Characters.
Mr. Fezziwig.
Mr. Fezziwig is a tradesman to whom Ebenezer Scrooge was apprenticed as a young man. As a character he is the very antithesis of the person that Scrooge becomes. He is jovial and care-free and although he is a business-man he still is generous with his time and money. This is best illustrated by the Christmas ball we see Fezziwig has put on for others, in which Scrooge is transported to by the Ghost of Christmas Past, showing him how many people can be made happy by his actions. Fezziwig represents a set of communal values and a way of life which was being swept away in the economic turmoil of the early nineteenth century.
Have Your Say.
Give your view on 'A positive light appeared to issue from Fezziwig's calves. They shone in every part of the dance like moons' with a rating and help us compile the very best Charles Dickens quotations.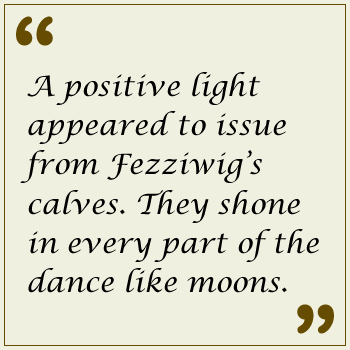 Related.
If you like this, we think you might also be interested in these related quotations: