Background.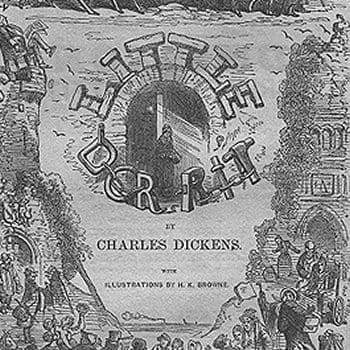 'A lovely girl, with a frank face, and wonderful eyes; so large, so soft, so bright, set to such perfection in her kind good head' is a quotation from Little Dorrit (Book 1, Chapter 2).
Context.
This quotation is a description of the character Pet Meagles the daughter of retired banker Mr. Meagles and his wife. Pet, whose rename is Minnie, is a very attractive girl, aged around twenty.
In Book 1, Chapter 2 of Little Dorrit, a group of travellers are being quarantined in the French town of Marseille, having come from the Far East on their way to England. Amongst the English in the group are Mr. and Mrs. Meagles, their daughter, Pet, and maid Tattycoram, the businessman Arthur Clennam and a mysterious woman known as Miss Wade. Arthur Clennam is clearly attracted to Pet, but his attentions for her will face competition upon their return to England.
Minnie 'Pet' Meagles.
Pet is the ridiculously pretty and thoroughly spoilt daughter of self-made Mr Meagles. Not deliberately cruel, she can nevertheless be thoughtless in the way that only spoilt people can be – particularly in the way she treats her young servant, Tattycoram. Pet is giddy with the excitement of having two suitors, Henry Gowan and Arthur Clennam but, in choosing between them, she is faced with the first life-changing decision of her life.
Source.
Taken from the following passage in Book 1, Chapter 2 (Fellow Travellers) of Little Dorrit:
''Well, Mr Meagles, say no more about it now it's over,' urged a cheerful feminine voice.

'Over!' repeated Mr Meagles, who appeared (though without any ill-nature) to be in that peculiar state of mind in which the last word spoken by anybody else is a new injury. 'Over! and why should I say no more about it because it's over?'

It was Mrs Meagles who had spoken to Mr Meagles; and Mrs Meagles was, like Mr Meagles, comely and healthy, with a pleasant English face which had been looking at homely things for five-and-fifty years or more, and shone with a bright reflection of them.

'There! Never mind, Father, never mind!' said Mrs Meagles. 'For goodness sake content yourself with Pet.'

'With Pet?' repeated Mr Meagles in his injured vein. Pet, however, being close behind him, touched him on the shoulder, and Mr Meagles immediately forgave Marseilles from the bottom of his heart.

Pet was about twenty. A fair girl with rich brown hair hanging free in natural ringlets. A lovely girl, with a frank face, and wonderful eyes; so large, so soft, so bright, set to such perfection in her kind good head. She was round and fresh and dimpled and spoilt, and there was in Pet an air of timidity and dependence which was the best weakness in the world, and gave her the only crowning charm a girl so pretty and pleasant could have been without.

'Now, I ask you,' said Mr Meagles in the blandest confidence, falling back a step himself, and handing his daughter a step forward to illustrate his question: 'I ask you simply, as between man and man, you know, DID you ever hear of such damned nonsense as putting Pet in quarantine?'

'It has had the result of making even quarantine enjoyable.

'Come!' said Mr Meagles, 'that's something to be sure. I am obliged to you for that remark. Now, Pet, my darling, you had better go along with Mother and get ready for the boat. The officer of health, and a variety of humbugs in cocked hats, are coming off to let us out of this at last: and all we jail-birds are to breakfast together in something approaching to a Christian style again, before we take wing for our different destinations. Tattycoram, stick you close to your young mistress.'

He spoke to a handsome girl with lustrous dark hair and eyes, and very neatly dressed, who replied with a half curtsey as she passed off in the train of Mrs Meagles and Pet. They crossed the bare scorched terrace all three together, and disappeared through a staring white archway. Mr Meagles's companion, a grave dark man of forty, still stood looking towards this archway after they were gone; until Mr Meagles tapped him on the arm.

'I beg your pardon,' said he, starting.

'Not at all,' said Mr Meagles.
Have Your Say.
Give your view on 'A lovely girl, with a frank face, and wonderful eyes; so large, so soft, so bright, set to such perfection in her kind good head' with a rating and help us compile the very best Charles Dickens quotations.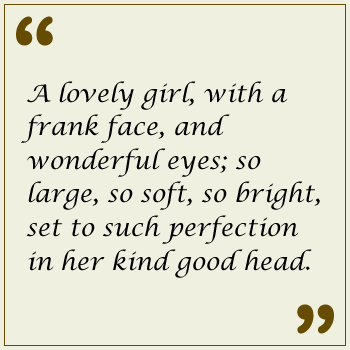 Related.
If you like this, we think you might also be interested in these related quotations:
Discover more.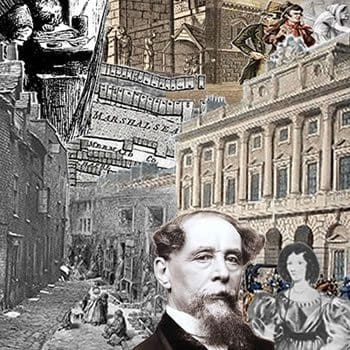 ---