Background.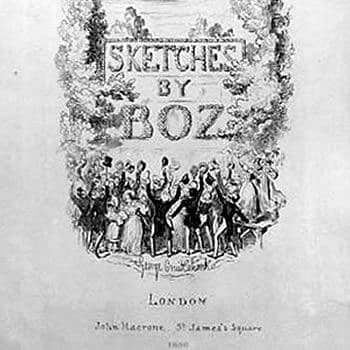 'A little flirtation, she thought, might keep her house full, without leading to any other result' is a quotation from Sketches by Boz, Tales, Chapter 1 (The Boarding-House).
Context.
Quotation describing Mrs. Tibbs, who runs a boarding house in Great Coram Street in the Bloomsbury area of London.
Mrs. Tibbs has taken six lodgers into her establishment. One group are three single men, Mr. Simpson, Mr. Septimus Hicks and a Mr. Calton. A second group is a middle-aged widow, Mrs. Maplesone, and her two daughters, Matilda and Julia. Both are in their twenties, and also both single.
Mrs. Tibbs appears to be encouraging flirtation between the gentlemen and the young ladies in the interests of business, although she has already told her husband that she does not want a marriage to develop as that would 'rob me of my boarders—no, not for the world'.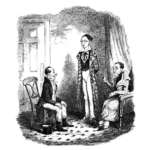 Source.
Taken from the following passage in the sketch The Boarding-House.
Mr. Calton, the remaining boarder, shortly afterwards made his appearance, and proved a surprising promoter of the conversation. Mr. Calton was a superannuated beau—an old boy. He used to say of himself that although his features were not regularly handsome, they were striking. They certainly were. It was impossible to look at his face without being reminded of a chubby street-door knocker, half-lion half-monkey; and the comparison might be extended to his whole character and conversation. He had stood still, while everything else had been moving. He never originated a conversation, or started an idea; but if any commonplace topic were broached, or, to pursue the comparison, if anybody lifted him up, he would hammer away with surprising rapidity. He had the tic-douloureux occasionally, and then he might be said to be muffled, because he did not make quite as much noise as at other times, when he would go on prosing, rat-tat-tat the same thing over and over again. He had never been married; but he was still on the look-out for a wife with money. He had a life interest worth about 300l. a year—he was exceedingly vain, and inordinately selfish. He had acquired the reputation of being the very pink of politeness, and he walked round the park, and up Regent-street, every day.

This respectable personage had made up his mind to render himself exceedingly agreeable to Mrs. Maplesone—indeed, the desire of being as amiable as possible extended itself to the whole party; Mrs. Tibbs having considered it an admirable little bit of management to represent to the gentlemen that she had some reason to believe the ladies were fortunes, and to hint to the ladies, that all the gentlemen were 'eligible.' A little flirtation, she thought, might keep her house full, without leading to any other result.
Have Your Say.
Give your view on 'A little flirtation, she thought, might keep her house full, without leading to any other result' with a rating and help us compile the very best Charles Dickens quotations.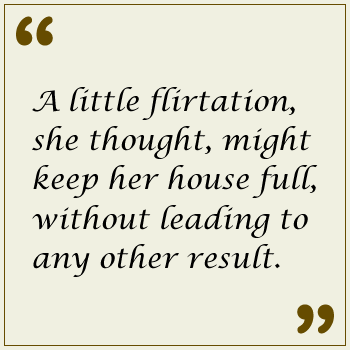 Related.
If you like this, we think you might also be interested in these related quotations:
Discover more.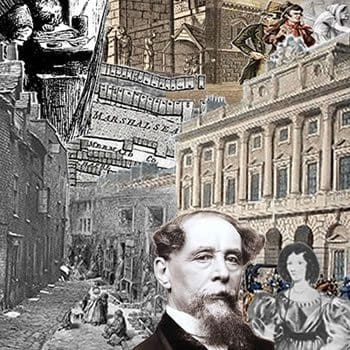 ---